Our Virtual Gala will be held on Friday, December 3 from 7pm until 8pm, which will livestream on YouTube. Our honorees are ANA (All Nippon Airways Co., Ltd.), Shuji Bon Yagi (founder of the New York Japanese Restaurant Association & President of the TIC Restaurant Group), and Deputy Inspector Naoki Yaguchi of the NYPD. As the spread of COVID-19 subsides, we commend everyone who is making efforts toward recovery. Fundraising activities such as our bazaars are still not possible, so this Gala is important for the future of JAA. To purchase your tickets, please visit www.jaany.org. Thank you for your support.
JAA Election General Meeting: Vice President Koji Sato elected as the New President in 2022
At the JAA General Election Meeting held on November 18, 2021, current vice president Koji Sato was elected and approved as the new president.
Officers from January 2022
President: Koji Sato
Vice Presidents: Yuzuru Anzai, Julie Azuma, David Hiromura,
Shunichi Honma, Keiko Ishida, Riki Ito, Makoto Iwahara, Yuki Kaneshige,
Susan Miyagi McCormac, Tsuneko Mitsunaka, Satoru Murase,
Kamal Ramani, Katsuo Takeda
Secretary: Nobuhisa Ishizuka
Assistant Secretary: Julie Azuma
Treasurer: Kumiko Hasegawa
Assistant Treasurer: Masaki ShimomuraSusan Onuma served as JAA's president for eleven years, the longest term of any president. She was the first woman president in JAA's history, heading JAA's Centennial Gala in 2007. Among her many accomplishments with the organization, Susan established the JAA Committee on Aging Issues and the Women in Business group. She will serve as honorary president and will continue to support JAA.Vice Presidents Suki Terada Ports, Hiroko Onoyama, and Joe Oshima have resigned from the board of directors and will become honorary directors. Thank you very much for your contribution to JAA over the years.
The Autumn Health Fair 2021 @ JAA The 15th Online Autumn Health Fair
The 15th Annual Autumn Health Fair was held at JAA from September 4 to October 3, 2021. We offered more than 50 programs via phone, Zoom, YouTube, and at JAA Hall, where a limited number of people attended. This event was developed by the JAA Committee on Aging Issues and is co-sponsored by JAMSNET (Japanese Medical Support Network) with support from the Consulate General of Japan in New York. Due to the enthusiastic participation of numerous service providers, a variety of seminars and workshops for all ages were held on health and other issues including but not limited to, "Keeping Safe in New York" by the Consulate General of Japan in New York; "Tips on Getting One's Affairs/Documents in Order" and "Living Alone & How to Enjoy Your Golden Years" by Susan J. Onuma, Esq.; lecture and consultation on taxes between Japan and the USA by Mr. Hazuhiko Otani; U.S.-Japan Dual Citizenship by Keiko Shiozaki; Pre-mama club and CPR by Dr. Maki Kano, Dr. Satoko Kanahara, and Ms. Hiromi Shinba; Estate Planning, Medicaid Planning, & Consultation on Wills by Helen Irie, Esq. and Reiko Takikawa Esq.; lectures and consultations for Medicare and Social Security in the U.S. and Japan by Shunji Ichikawa; New York State Health Insurance and Medicare by JASSI; and Home Care System in the U.S. by Yoko Yuge, RN. Also, there were workshops on activities to encourage enjoyment of daily living and good health such as tea ceremony, calligraphy, chorus, Tai chi, and stretch class. The Lions Club offered lectures. Because we conducted the health fair virtually, about 1,666 people from the greater New York area as well as other parts of the U.S., Europe, and Asia participated.
9/11 Community service
This year marked the 20th anniversary of the 9/11 attacks on September 11, 2001.
Our 9/11 community service brought together JAA, the Consulate General of Japan in NY, Bank of Tokyo-Mitsubishi UFJ, and the JA community to honor the actions of the FDNY, which lost 343 members that day. Fifty lunches made by the chefs at the Ambasador's residence and sembazuru with paper cranes made by MUFG staff all over the world and JAA volunteers were presented to two fire stations: FDNY Engine 22/ladder 13 on East 85th Street and FDNY Engine 8, Ladder 2, Battalion 8 on East 51st Street on September 9th. Ambassador Kanji Yamanouchi; Kazuo Koshi, Executive Chairman of MUFG Americas; JAA Honorary President Gary Moriwaki; JAA Vice President Suki Terada Ports; Dr. Robert Yanagisawa, President of JMSA; Dr. Joshua Walker, President of Japan Society; and others. On the day of 9/11, JAA members joined more than 1,000 other volunteers to make meal kits for food insecure New Yorkers onboard the Intrepid Sea, Air & Space Museum. JAA is grateful to all the volunteers who represented the Japanese and Japanese American community and to MUFG for their generous support of our volunteer events that are meant to honor the memories of those lost on, and because, of 9/11.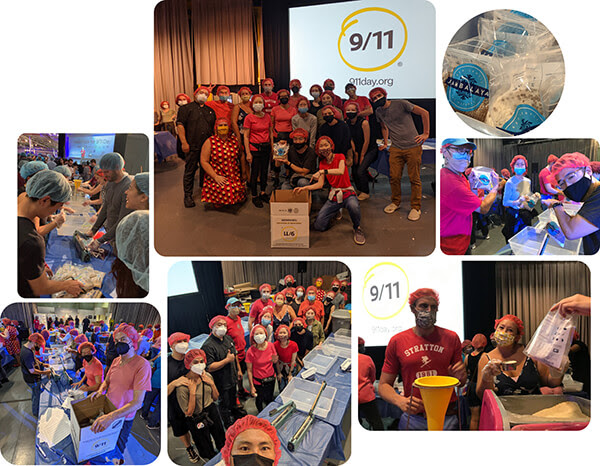 20 years ago, JAA established the JAA September 11 Relief Fund. By the end of that same year, we collected $550,000. We donated $25,000 to the victims and local restaurants, and then JAA Vice President Toshio Kiso presented $500,000 to the Twin Tower Fund established by then NYC Mayor Rudolph Giuliani.
The names of the volunteers are posted on JAA's Facebook page. Thank you very much for your support.
Names of volunteers at 9/11 community services
Special thanks to our volunteers:
For Japanese Obento and Origami:
Toshiko Kobayashi of Origami Therapy Association, Namie Suzuki-Appelbaum, Eiko Aono, Nancy Castro, Machiko Frick, Taeco Ishida, Christy Jones, Ramez Kafrouni Rich Kameda, Astonishing Asian, Keiko and Mitsuko Kobayashi, Mari Morimoto Dvm Noriko Nakayama, Kyoko Ohnishi, Karl Palma Sara Sakanaka, Katsuo Takeda, Yoko Suzuki and support from Jill Cornell
MUFG volunteer coordinators: Yumi Higashi Ho, Noriko Furuhata Taylor and their colleagues
Consulate members: Masanari Taniai, Shō Nakamura, Chefs Shima and Tsutsumi, Erich Steyaert, Hideyuki Ishii, Miyuki Kubo, Chiaki Torisu, Yuki Kaneshige
And of course Michiyo Noda, Naomi Miyashita and Kuni Mikami, without whom nothing could happen at JAA.
For Meal Kit:
JAA's Eiko Aono, Sumi Kanter, Akira Imai, Colin Lee, Kiyo Matsumoto, Noriko Nakamura; the Consulate's Uyanga Uyanga and Gerald DeMattia (for SNS posts); JETAA USA – JET Program Alumni Association's Monica Yuki and Sean Hunt; Hoshuko Alumni Association's Yuji Horimoto; JET Alumni Association of New York (JETAANY)'s Christy Jones; Japan Society's Erina Aoyama and Bryant Benter; JAJA (Japanese Americans and Japanese in America)'s Rich Kameda; The New York Japanese-American Lions Club's Kenji Nakano; and Karl Palma and Nancy Castro.
The 27th JAA Charity Golf Tournament
The 27th JAA Charity Golf Tournament, sponsored by ANA All Nippon Airways Co., Ltd., was held on Monday, September 27, at the Harbor Links Golf Course in Port Washington, NY.
Ambassador Kanji Yamanouchi of the Consulate General of Japan in NY and Mr. Shigeru Hattori, General Manager of the Americas and NY Branch Office of ANA, gave greetings and encouragement. A total of 92 people entered, and at 9:30 am, in the clear autumn weather, the play by the shotgun method started. This time again, we decided on the ranking by adopting a new Peria method that calculates the handicap by making 12 holes a hidden hole.
The winner of the tournament was Mr. Kirk Oguri, who received the championship cup from JAA President Susan Onuma and a JFK-Tokyo Round-Trip ANA Business Class Ticket from ANA Sales Manager Mr. Yoshiharu Otsu. Mr. Richard Wang won second place, and Mr. Yoshinori Kawashima placed third. The best gross was won by Mr. KH Wang in the men's category at 74 and Ms. Sim in Sook(?) in the women's category at 83. Also, special gifts were presented to the six "super seniors" (aged 75 and over).
Mr. Mitsunari Sanda won our special raffle prize of a JFK-Tokyo round-rrip ANA Business Class Ticket, and Mr. Yohei Takada won a First Class U.S. domestic round-trip ticket, donated by IACE Travel. Raffle sales of $7,560 and a portion of the entry fee will be used to fund JAA's activities.
Mr. David Hiromura, the chairman of the charity golf committee, expressed his gratitude to the participants, supporting companies, and individuals. He stated his aspirations for the next tournament and promised to meet again.
The JAA Charity Golf Committee
Co-chair: David Hiromura, Michi Tahara
Committee members: Kazuhisa Enokida, Keiko Ishida, Shige Kosuda, Yoshiharu Otsu,
Koji Sato, Casey Taniguchi
27th JAA Charity Golf Tournament Special thanks to the following Sponsors
ALL NIPPON AIRWAYS/ANA
・Asahi Beer USA・Brother Int'l Corp. ・53rd Wellness Studio/Kenko Do・Furumoto Realty ・Hajime Restaurant・Harbor Links Golf Course・Hatsuhana Restaurant・IACE Travel・interesse international inc.・Ito En (North America)・JFC International, Inc.・Kyodo Trading・Milbon USA・Mitsubishi Gas Chemical America, Inc.・Michi Beauty Salon・MiNGLE・Momotaro Beauty Salon・Morikawa, Tomohiro・New York Mutual Trading・Nippan Daido U.S.A.・Orient Corp. of America・PGA of Pete's Golf Shop (Kirk Oguri)・Restaurant Nippon・Sakura Shoji・Sanda, Mitsunari・Sapporo Beer USA・Shimomura & Co. CPAs・Tao Consultants・the rice factory New York・T.I.C. Inc. (Sakagura & Sobaya) ・TV Japan/NHK Cosmomedia Amrerica・UOGASHI New York・Urushibaru, Ken・Watabe, Yukio・Windels Marx Lane & Mittendorf, LLP・Wismettac Asian Foods・Yomitime Inc.・Y's Publishing Co., Inc.
The 35th JAA Foreign Minister's Cup Baseball Tournament
The finals of the 35th JAA Foreign Minister's Cup Baseball Tournament were held on Sunday, September 19. The tournament began on May 2 with 13 participating teams. There were many rainy Sundays this season, and a typhoon delayed the finals by one month. The game started at 7 pm on Randall's Island, and players unfamiliar with night games fought a fierce battle under the glittering lights with the last power of the season. The Brooklyn Dumbos defeated Niko Niko 2-0 for their first championship.
Champion: Brooklyn Dumbos
2nd place: Niko Niko
3rd place: NY Junks
4th place: CPC
"We were able to play 59 games due to rain, for 4 months while paying attention to the tournament management and infection prevention measures while the new corona infection was spreading. Above all, I was relieved that none of our team participants (including family members) were infected. Randall's Island is now transformed into a sports pleasure land. The 'Japanese-style baseball' brought in by the Japanese is gradually being well received by Americans! I am keenly aware that it is important to continue this tournament as a bridge for cultural exchange! We would like to thank the officers of the tournament headquarters (Kasei, Morio, Okubo, Shinkai, Dr. Ramani) for their efforts!"
(JAA Sports Committee Chairman Shuji Kato)
Online Autumn JAA Japanese Language Committee Workshop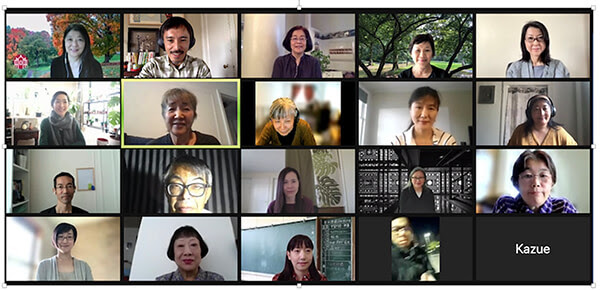 The Autumn Japanese Language Workshop was held on October 23 on Zoom. Five of the 35 participants were from Japan, and some were from other states in the U.S.
Professor Yuri Kumagai of Smith College gave a lecture on the theme of "Reading the Japanese Language Landscape Critically – As an Example of an Attempt to Foster a Critical Perspective in a Japanese Language Class." For her project, she used Google Street View to ask a student to select a town to visit in Japan. She introduced her analysis, which included the intention behind street signs that we usually see only casually. Who is the target of the sign? What kind of design was used to make the sign? What language is used? Attendees were divided into small groups to discuss their opinions about these critical perspectives. The discussion was lively, and it was a meaningful workshop.
(JAA Japanese Language Committee Chairman Nobuko Kodama)

JAA offers congratulations to Mr. Tadao Yoshida for having been honored with the Consul General's Commendation on September 28 for his longtime support of the Japanese and Japanese American community and promotion of Japanese food culture.
Among other contributions, Mr. Yoshida and his family, including his daughter, Erina, and son, Takuya, have generously donated bento to JAA seniors at JAA's keirokai, senior luncheons, and through Project Bento, JAA's initiative to provide free bento to Japanese and JA seniors during the pandemic (started by Erina and JAA Vice President Susan McCormac).
As the owner of Sunrise Mart, several restaurants, and other eateries, Mr. Yoshida has been a major force in popularizing the tastes of Japan throughout the city. His family's efforts continue to expand with the establishment of a Japanese dining and cultural destination at Japan Village in Brooklyn.
JAA extends its gratitude to Mr. Yoshida for his many community contributions and warmest congratulations on having received this commendation.
For his historic contributions to the advancement of Japan-U.S. relations, Ambassador Motoatsu Sakurai was bestowed the Order of the Rising Sun, Gold Rays with Neck Ribbon on October 6 at Ambassador's residence.
Ambassador Sakurai has created important pathways between Japan and the U.S. with his profound understanding of both cultures, as well as the many fields of bilateral relations. He served as President and CEO of Mitsubishi International Corporation, Consul General of Japan in New York, President of Japanese Chamber of Commerce and Industry of New York, and President and CEO of Japan Society.
While at Japan Society, he organized the Japan Earthquake Relief Fund, which raised more than $14 million for survivors of the March 11 Great East Japan Earthquake in 2011. As Consul General, he initiated Japan Day @ Central Park in 2007, a celebration of Japanese culture for the people of New York.
He now serves as a board member of The Asian American Foundation. It funds nonprofits that amplify the voice of the Asian American community in the face of increasing intolerance during the COVID-19 pandemic.
Ambassador Sakurai is continuing to make bold strides, working toward the deepening of ties between Japan and the U.S., the strengthening of the Japanese and Japanese American community's capacity here in the U.S., and for the Asian American community's protection. For all these remarkable achievements, JAA extends its warmest congratulations to the Government of Japan's 2021 Spring Decoration honoree.
Keirokai & Social Service Committee
Our free legal consultations for wills, legal problems, and immigration law continue to be available over the phone. Keirokai has been held once or twice a month at JAA Hall since June. Around 100 obento boxes were enjoyed at JAA hall (limited capacity of 70), delivery, and pickup.
JAA Vice President Satoru Murase donated the gorgeous lunch boxes from the Nippon Club on the Ushinohi Keirokai (eel kabayaki bento) on July 29, the Obon Keirokai on August 12, and the Keirokai on September 16. Mr. Murase also participated in the Keirokai on September 16, saying, "Please eat delicious Japanese food and live longer". We also celebrated Kiyomi Watanabe's 97th birthday. On October 7, 21, and November 18, we held Keirokai with BentOn's lunch boxes. All the attendants at the Keirokai enjoyed food and chatting, the songs of the Iwaki Band, Duo Yuzuri no Hana, and Bon dancers.
Members News
Rev. Earl Ikeda retired as NYBC resident minister at the end of August after seven fruitful years as NYBC's resident minister.
He helped JAA provide services at Bosankai and was a call volunteer for Project Bento. Rev. Isabella Shinjo Bernard, Rev. Cheryl Joko Ikemita, and Rev. Gary Shobo Jackula will oversee the service until the next priest is named.
The Digital Museum of the History of Japanese in New York
This will be the first East Coast digital archive documenting the Japanese who contributed to NY's unique culture. We wish to preserve and share this remarkable history with the younger generation. The Digital Museum's historical materials cover politics, business, science, culture, education, Japanese migration, and more. As a community endeavor, the digital museum was established by the Japan History Council.
We are accepting historical materials and financial assistance.
www.historyofjapaneseinny.org
Please contact JAA and history@jaany.org
Mr. Shigeo Kida, who supported JAA for many years, passed away in his hometown of Oita on September 4. He was 98 years old. He opened the restaurant Japonica in the East Village in 1978, and it is still popular today. The late New York Mayor Ed Koch was a regular customer.
Midori Sato (86)
Journey into the Arts
Midori Sato was born in Kobe in 1935 and started studying English during middle school at Kobe Women's High School, which recruited teachers from the US. After graduating from the school, she worked at the International Rotary Club, the Sakata Shokai, the American Consulate in Kobe, and then eventually Osaka University.
In 1962, Midori moved to New York with her husband for his new position at the UN. She raised their four children and occasionally did part-time work translating, working at an antique store, making crafts, and decorating the retails shop's front windows.
Many years later, hearing her child talk about an experience at school made Midori wish to pursue a career more vigorously. In 1985, she began working at the Metropolitan Museum's Textile Conservation Department, a job she says she came upon by chance and one where she worked for almost 25 years.
During her career, Midori traveled to other countries with artifacts as a courier, a set of experiences evocative enough to end up in her poetry. From 2000-2005, she and a co-researcher worked on a private series of exhibitions called "Encounter" which displayed art and artifacts made in Sugamo Prison, depicting the lives of suspected war prisoners there. In 2014, the ten-year research process of this project was published in "Impressions: The Journal of the Japanese Art Society of America #35." In 2016, she was named Conservator Emerita of The Met.
Midori, who wrote poems throughout her life, one day found a poem she had written as a young woman in 1955. At the suggestion of Hiroaki Sato, a friend and a renowned translator, Midori gathered the poems she had written and published them into a beautiful book, Wanzagure, this year. She has four children and seven grandchildren who live in New Zealand, Canada, and the U.S.
(Information gathered and edited by Hana Wideman.)