Contents
Japanese Heritage Night at Citi Field
New Yorkers joined in a celebration of Japanese Heritage Night with the NY Mets at Citi Field on August 25th. The star players Mets: Kodai Senga and Angels: Shohei Ohtani went head-to-head, delighting baseball fans of both teams! Rina Maejima belted out a gorgeous rendition of "The Star Spangled Banner," and Ambassador Mikio Mori threw out the first pitch to JAA President Koji Sato. JAA Board Member, Vietnam War Veteran and Japanese American civil rights activist Takeshi Furumoto was recognized as the Veteran of the Game. For this event, JAA collaborated with the Consulate General of Japan in New York, JCCI NY, U.S.-Japan Council, Japan Society, and the Japanese American National Museum! Special appreciation goes to JAA's Koji Sato, Michiyo Noda, Susan McCormac; the Consulate's Jesse Taylor, OTA's Toshiko Kobayashi, and especially to the New York Mets' Young Choi!
---
The 29th JAA Charity Golf Tournament
Monday, October 16
The 29th JAA Charity Golf Tournament will be held on Monday, October 16 at the New York Country Club (103 Brick Church Road, New Hempstead, NY 10977). Top prize include ANA Business Class NY-Tokyo round-trip ticket. The entry fee is $270 ($100 tax deductible).
JAA 116th Anniversary Gala Dinner
Friday, December 8 @ Harvard Club
More details will be communicated as they become available.

The 53rd JAA Scholarship & The 17th Honjo Scholarship Award Dinner
At the 53rd JAA Scholarship and the 17th Honjo Scholarship Award Dinner, 16 high school seniors and graduate students were recognized for their academic excellence, interest in U.S.-Japan relations and dedication to community service. It was held on May 31 at the Harvard Club and well-attended with 160 guests. JAA President Mr. Koji Sato led the evening's program, which included remarks from Ambassador Mikio Mori of the Consulate General of Japan in New York, and Mr. Tomonori Wada, President & CEO of Sumitomo Corporation of Americas, Co-Chair of the Scholarship Committee. Mr. Hiroyuki Fujita, CEO of Quality Electrodynamics gave the keynote speech. Co-chair of the Scholarship Committee, Mr. Satoru Murase, expressed gratitude to all the guests, donors, staff and volunteers who made the event possible.
Eleven students entering college this fall were awarded a combined total of $62,000 in scholarships and two All Nippon Airways roundtrip tickets to Japan. The Honjo Scholarship Award provided a total of $30,000 to five graduate students. On behalf of the high school awardees, Jocelyn Saki Greshes , who won the Murase Family Scholarship, and Haruka Kokaze, who won the JAA Honjo Scholarship, expressed their gratitude to the JAA community. Congratulations to all of the scholarship awardees!
53rd JAA Scholarship (for graduating high school students)
The Murase Family Scholarship
($12,000 plus Round Trip Air Ticket to Japan, courtesy of All Nippon Airways)
Jocelyn Saki Greshes
Rye Neck High School, will attend University of Pennsylvania
MUFG Scholarship ($10,000)
Remy Moto Ronen
Montclair Kimberley Academy, will attend The United States Military Academy at West Point
Eri Kakuta Scholarship ($8,000)
Cougar Hashikura
Bergen County Academies, will attend Cornell University
Dr. Soji Tomikawa Scholarship ($7,500)
Claire Momoka Onishi
Pearl River High School, will attend Vassar College
Orient Corporation of America Scholarship ($5,000)
Kiko Asta Yoshihira
West Windsor-Plainsboro High School South, will attend Boston University
Ichinohe & Horishige Scholarship ($5,000)
Lynn Masako Cheng
Bergen County Academies, will attend Fordham University
Toshiko Matsukawa Scholarship ($5,000)
Cooper Katsu Keane
Curtis High School, will attend Columbia University
TV Japan Scholarship ($3,000)
Keizo Katayama
Fort Lee High School, will attend Tufts University
Ambassador Shinichi Nishimiya Scholarship ($3,000)
Koharu Ando
Northern Valley Regional High School at Demarest, will attend Georgetown University
Moto Saito Scholarship ($2,500)
Kimberly Susan Wei
Mamaroneck High School, will attend Barnard College-Columbia University
ANA Japan Travel Scholarship
($1,000 from JAA plus Round Trip Air Ticket to Japan, courtesy of All Nippon Airways)
Kohei Luke Izawa
Greenwich High School, will attend New York University

17th JAA Honjo Scholarships Awardees (for graduate students)

Randy Erubiel Garcia Martinez will be enrolled in the Ph.D. history program at City University of New York. His focus is on the Japanese diaspora to Latin America, the relationship of Japan and the US and how this affected relationships with Latin Americans. $10,000
Haruka Kokaze is in a Master program at NYU focusing on mental health and wellness. She is very active already in the community, having interned for JAANY, the US Japan Council and other organizations. Her goal is to become a transnational psychologist helping Japanese and Japanese Americans in the US and Japan. After her clinical experience she intends to pursue a Ph.D in counseling psychology. $8,000
Anna Gasha will be studying for a Ph.D. in Historic Preservation at Columbia University. Her studies will look at how various institutions in different countries work to adapt technical solutions relating to earthquake disaster risk reduction in different venues. $6,000
Kentaro Tamaki was an awards recipient last year. He is continuing his studies at Georgetown University working on his master's in foreign service. He hopes to dedicate his life to public service and to strengthening the US-Japan relationship in many ways, primarily by focusing on interpersonal relationship building. $3,000
Kikuko Tanaka is working towards her Ph.D. in history at City University Graduate Center. Her doctoral dissertation will focus on Kuki Shizo and how his anti-totalitarian philosophy can offer lessons and understanding to Americans. $3,000
Keynote Speaker
Hiroyuki Fujita, Ph.D., an immigrant from Japan and industrialist, is the founder and CEO of Quality Electrodynamics a global developer and manufacturer of magnetic resonance imaging (RF coils. In 2019, QED became a subsidiary of Canon Inc. where Fujita was named CTO of the CT MR Division of Canon Medical Systems Corporation. He was recently appointed chairman of Canon Healthcare USA, Inc and serves as chairman of The Ohio State University and Cleveland Clinic Hillcrest Hospital Board of Trustees. He is a member of the Board of Governors of the Okinawa Institute of Science and Technology Graduate University, the Honorary Consul of Japan in Cleveland, Ohio and the U.S. – Japan Council's Board of Councilors. Fujita received his Ph.D. in physics from Case Western Reserve University. [deleted Cleveland, Ohio.
2023 Annual JAA Scholarship Dinner Benefactors
Gold Sponsor:
・DELOITTE
・MUFG Bank, Ltd.
・Hiroko & Satoru Murase
・Orient Corporation of America
Silver Sponsors:
・Japanese Medical Society of America, Inc. (JMSA)
・Mitsubishi Corporation (Americas)
・Gary S. Moriwaki/Susan J. Onuma
・Orix Corporation USA<
53rd Annual JAA Scholarship Awards
2023 53rd JAA General Scholarship Committee
Co-Chairpersons: Tomonori Wada, Satoru Murase
Members: Susan J. Onuma, Koji Sato, Rona Tison, Robert Yanagisawa
2023 17th JAA Honjo Scholarship Committee
Chairperson: Gary S. Moriwaki
Members: Nobuhisa Ishizuka, Maki Kano-Lueckerath, Susan J. Onuma, Koji Sato, Katsuo Takeda

The 2nd Japan Parade in New York
On Saturday, May 13, JAA took part in The 2nd Japan Parade in New York From West 81st Street to 67th Street in Manhattan, about 2,500 people from 98 Nikkei groups marched including those in kimono to the applause and cheers of 50,000 New Yorkers who filled the roadside.
JAA members and a group of baseball players representing the teams of the JAA Foreign Minister's Cup Baseball Tournament marched this year. Carrying the Go for Broke banner, Mr. Tak Furumoto marched with Gary Moriwaki, a JAA Life Trustee. In the convertible at the head of the parade was Grand Marshal, Ms. Kristi Yamaguchi, a gold medalist in figure skating in 1992. New York City Mayor Adams also participated in the parade. It was a great day out for the Japanese American community in New York!
The 27th JAA Art Exhibition of Japanese and Japanese American Artists in New York 2023
The 27th Art Exhibition of Japanese and Japanese American Artists in New York was held from May 11 to May 20, 2023. The opening reception on May 12th included, welcome by Mr. Koji Sato, JAA President and a greeting from Ambassador Mikio Mori. More than 100 people filled the hall. This year, art works by 30 artists (including 90 years old renowned artist Ushio) were displayed.
Artists: ︎Natsuko Hattori, George Hirose, Kumi Hirose, Kazuko Hyakuda, Shigeno Ichimura, Atsuko Kawai, Mariko Kuzumi, Ryoichi Miura, Kazuko Miyamoto, Hiromitsu Morimoto, Kazuya Morimoto, Yasumitsu Morito, Miki Nagano, Masaaki Noda, Hiroko Ohno, Katsura Okada, Tomomi Ono, Shunji Sakuyama, Kenjiro Sasaki, Masaaki Sato, Mizue Sawano, Alex Kukai Shinohara, Noriko Shinohara, Ushio Shinohara, Akemi Takeda, Keico Watanabe, Setsuko Winchester, Junko Yoda, Toshihisa Yoda and Yoichiro Yoda
The 2023 NYC Tanabata Festival @East River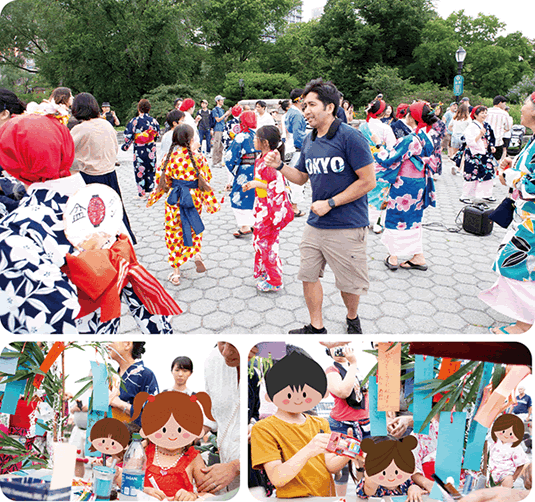 This year's event was held on July 8th, 2023 opened with Japanese songs by The New York Mixed Chorus and welcoming remarks from JAA President Koji Sato, Deputy Consul General Kazuya Mori of the Consulate General of Japan in New York, and Stan Honda of the Amateur Astronomers Association. Other exciting highlights included Bon-Dance NYC and Origami Therapy Association, Consul Tomoe Sato's expert kamishibai storyboard, and AAA's guided search for the star-crossed lovers in the night sky. Many community partners came together for the festival and we are grateful to: Our co-organizers – Stan Honda, Thomas Haeberle and Kat Troche of AAA.
Participants – The New York Mixed Chorus and Bon-Dan NYC; OTA's Toshiko Kobayashi, Miyuki Hegg and their other fine volunteers. Community leaders – Deputy Chief of Mission, Akira Endo. Manhattan Borough President's Director of Community Relations, Tricia Shimamura. Carl Schurz Park Conservancy. NYC Dept of Parks & Recreation's Joanne Cordero. Kodansha US's Tomo Tran for the donation of origami books. BentOn and all our fantastic individual and corporate volunteers from MUFG, Morgan Stanley and Sumitomo MSGivesBack.
We also thank Masao Katagami and Stan Honda for their great photos of the festivities! Hope to see you next year!
Memorial Day Service

On Memorial Day May 29, the annual visit was held at the Mount Olivet Cemetery in Queens, and about 30 people attended, including Ambassador Mikio Mori, Consul General of the Japan in New York, Koji Sato JAA President, Isabella Barnard of NY Buddhist Church, the New York Japanese Lions Club (President Michiharu Aida), the New York Japanese School (Principal Masahiko Okada) and New York Ikuei Gakuen (Principal Toru Okamoto). JAA Vice President Katsuo Takeda moderated the ceremony, and with the chanting of the New York Buddhist Church priest, each person offered flowers and burned incense, and soprano Asako Tamura sang Japanese & American National Anthems and "Ave Maria." The day before, Japanese Lions Club volunteers cleaned the gravestones and displayed small Japanese and American flags made by Ikuei Gakuen students. Currently, nearly 100 Japan people are buried in the cemetery. Flowers were donated by Consulate General of Japan in New York, Japanese-American Lions club, New York Buddhist Church and JAA.
The 37th JAA Baseball Tournament Rookies won!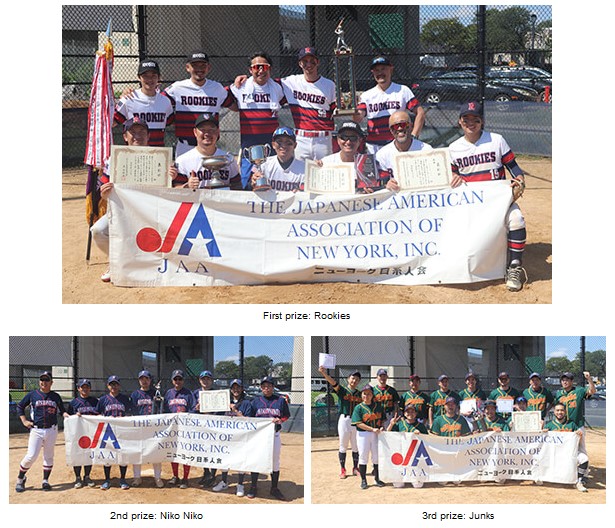 The 37th JAA Foreign Minister's Cup Baseball Tournament was held every Sunday from May 7th, with 15 teams competing in Central North Meadow and Randall's Island. The third-place match and the championship final were held on August 27 on Randall's Island. The Award Ceremony was attended by Consulate General Officer Toru Sakamoto and JAA Vice President Julie Azuma. The new Foreign Minister's Cup arrived at the behest of Mr. Sakamoto.
At the beginning of the ceremony, a moment of silence was held for those involved who passed away this year, Mr. Shuji Kato, former Foreign Minister Taro Nakayama, who donated the original Foreign Minister's Cup, Jesse and Kei Sato.
Please see www.jaabaseball.blogspot.com for details.

2023 The Summer Flea Market

The Summer Flea Market was held on a beautiful day on August 5th at JAA Hall, the first flea market since the COVID-19 pandemic. We raised $7,972.75 from this flea market. Thank you to those who donated goods, visited us, helped from setup to tidying up, and cooked delicious meals. We had a lot of eager shoppers at new JAA Hall the entire day! We are doing an after sale now!
Our left over clothes will be donated to Bowery Mission, homeless shelter. Thank you for your cooperation and hard work. Our next Grand Bazaar will be on November 18th (we changed date from 11/4).
Community News

Standing up for Japanese Americans
At the middle of the Morningside Park pond, a tribute to JAA Vice President and Japanese American community activist, Suki Terada Ports was held on June 29th. Because of her brave preservation efforts in the 1960's and continued community leadership, the picturesque pond area remains a centerpiece for the park for all to enjoy, including turtles, as Suki pointed out. But this is only one chapter of her many years of fighting for social justice and equality. Amidst many friends and fans from different decades of her life and diverse backgrounds, Suki spoke of the importance of community, nature's beauty, and remembering the past in appreciation of today.
New JAA Members Welcome Party
In thanks for their contributions to our community, JAA hosted a jazzy get-together for our new members and multigenerational volunteers. We really appreciate all who came to learn about ways to make our community stronger, and to work across communities and generations in NY. Special thanks go to organizers Julie Azuma, Keiko Kato, JAA President Koji Sato, Michiyo Noda, the Naoya Ogura Band for their fantastic musical performance, and BentOn NYC for the fab food, and Masao Katagami for the pro photos!

Social Services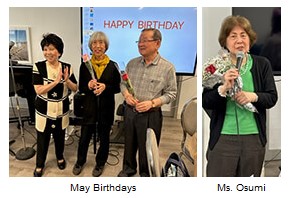 May
May 25th: Birthday Party and IWAKI BAND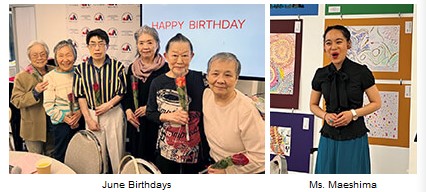 June
June 8: Musical actress Rina Maeshima
June 22nd: Birthday Party and IWAKI BAND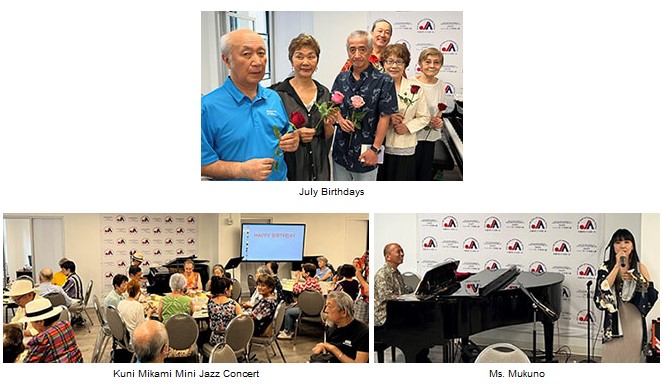 July
July 13: Mai Mukuno, songs of Hibari Misora (accompanied by Hideo Nakamura on piano)
July 27: Kuni Mikami Mini Jazz Concert, Birthday Party and IWAKI BAND
Augst
August 10: IWAKI BAND and "Bon Odori"

JAA seniors enjoyed BentOn lunch box and performance of Japanese songs by IWAKI BAND.
We had volunteers from Morgan Stanley at Keirokai in June and July! Thank you very much!
On August 24th Memorial Service for Shuji Kato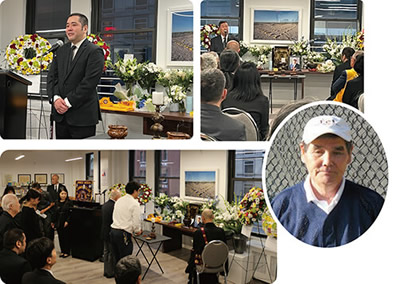 On August 24th Memorial Service for Shuji Kato was held at JAA Hall with his son Peter Kato and JAA, the Japanese Lions Club, the Hosei University New York Alumni Association, and the JAA Foreign Minister's Cup baseball plyers. The chanting by Rev. Nakagaki Kenjitsu and condolence speeches from guests followed. In 1985, the JAA Foreign Ministers' Cup Baseball Tournament was established by Mr. Kato, which continues to this day. Mr.Kato worked in the spirit of service for the rest of his life, including fundraising activities for the Great East Japan Earthquake in 2011, Hurricane Sandy in 2012, volunteering for New York Care and other activities and clearing the affected areas, and volunteering at the flea market bazaar at JAA.
More than 100 friends and acquaintances gathered at the memorial. Mr. Kato's motto was "dedicate my life to society and not think about my own financial benefit."
Our deepest condolences.
JAA Board member and past Treasurer, Kenichi Komeno passed away on May 21 in Hawaii, where his home is located. He was 79 years old. On June 6th, the funeral was held at Sodoshu Daifukuji Temple in Kona, with family and friends.
Member Tomiko Sakazume passed away on June 27 at a hospital in NJ. She was 87 years old. The memorial service will be held on September 11 at JAA Hall.
Member Kazuyo Wilder passed away on August 17th in New York City. She was 76 years old.
Roy Hiroyuki Ashikari, M.D.
Dr. Ashikari passed away on June 12 at age of 91. He was born in 1931 in Darien, China. Graduated from Keio University. In 1958, he came to New York as an exchange student. Roy demonstrated his remarkable skill in the operating theater led to the nickname of "Speedy Gonzales." Many celebrity figures became patients of his, including then Vice President Rockefeller's wife. He performed over 500 operations a year. He was honored with the Ellis Island Medal of Honor, the second recipient of Japanese descent to be so honored. He was also awarded the order of the Sacred Treasure Third Class by the Government of Japan. He was a Professor of Surgery at New York Medical College and at Cornell University Medical School. He was also Visiting Professor of Keio University Medical School. His second son Andrew is also a cancer surgeon. Memorial services at Beecher Flooks Funeral Home Pleasantville, NY was held on Saturday June 24.
Dr. Kinichi Shibutani of Gladwyne, Pennsylvania, passed away on August 26, 2022, at the age of 95. In 1955 he left Japan upon graduation from Kyoto University and entered internship in the US. He began the study of anesthesiology at Westchester Hospital. He has published over 130 articles. From 1979 to '92 he served as president of the Japanese Medical Society of America. In 1993, he was honored with a Distinguished Service Award by New York Medical College and the County of Westchester. In 1997 the Japanese Government awarded him the Order of the Sacred Treasure Third Class.
He was Professor Emeritus of Anesthesiology of New York Medical College.
JAA Board member Shuji Kato, who has led the JAA Foreign Minister's Cup baseball tournament since 1985 as chairman of JAA's Sports Committee, passed away at his home on August 7. He was 78 years old. A memorial service was held at JAA Hall on August 24, 6pm-8pm.