Contents
2023 JAA NEW YEAR REMARKS
JAA President: Koji Sato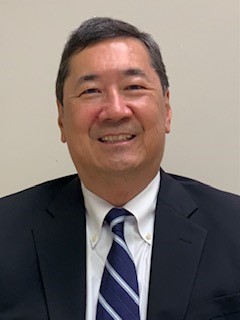 Happy New Year. After almost 2 years of everyone's lives being overwhelmed by COVID, our lives slowly returned to a somewhat normal state in 2022. For the past 2 years, JAA's in-person activities were limited with many events being held virtually. However, we slowly began holding in-person activities starting in 2022. For JAA's Keirokai senior luncheon, although over 100 seniors attended JAA Hall prior to COVID, we slowly increased the number of seniors attending Keirokai at JAA Hall to 60 and 60 for delivery and pick up bento. Our seniors were very happy to see each other after so much time being separated from one another. For 3/11 in March and 9/11 in September, JAA co-organized events with the Consulate General of Japan in New York and corporate sponsors, such as MUFG Bank, Ltd., to collect Japanese food donations for Food Bank of NYC in Harlem for 3/11 and I was happy to also participate in a 9/11 event to pack meal kits on board the Intrepid for the underserved. We were also fortunate to be able to hold our annual events such as Sakura Matsuri, Art Exhibition, Bosankai, Tanabata Festival, Baseball Tournament and charity golf tournament. For the first time in a few years, we were also able to hold in May JAA's 52nd Anniversary Scholarship Dinner in person. Our Sakura (Spring) and Autumn Health Fair were held on a hybrid basis, with in-person programs and on-line programs on 90 topics such as COVID, health care, mental health, exercise, nutrition, and aging issues with over 3,800 participants.
JAA, however, experienced a setback at the end of July when water leaking from the floor above us flooded our entire floor damaging our furniture, equipment and other property including our grand piano and books in our library. Although many paper files were destroyed by the flooding, we were able to salvage much of our historic material. Due to the concerns of mold, most of our walls and ceiling were removed making most of the space unusable. Because of the water damage, all activities planned to be held at JAA Hall from August were either cancelled or moved to another location. We appreciate all the support and encouragement we received as we were dealing with this matter. I am happy to announce that JAA will be moving its location from the 11th floor to the 5th floor in the same building as of January 2023.
Our biggest event of the year was the 115th Anniversary Dinner held in December at the Harvard Club. We honored MUFG Bank, Ltd. with our Corporate Community Leadership Award for their continued support to JAA and for providing philanthropic support that benefits our community. We also honored Mr. Gary Moriwaki (JAA President 2008-2013) with the Community Leadership Award for his outstanding leadership during his time as JAA President and for his endless dedication on making improvements in our community. JAA is fortunate to have the support of the Consulate General of Japan in New York, Japanese companies and organizations and volunteers and we truly thank each and every one of you for all you have done.
Best wishes to all of you for a wonderful New Year.
---
At the general election meeting on December 7,2022. JAA President Koji Sato was re-elected and approved to serve a second term.
The 2023's officers and board of directors will be introduced in the next JAA NEWS.
JAA 115th Anniversary Gala Dinner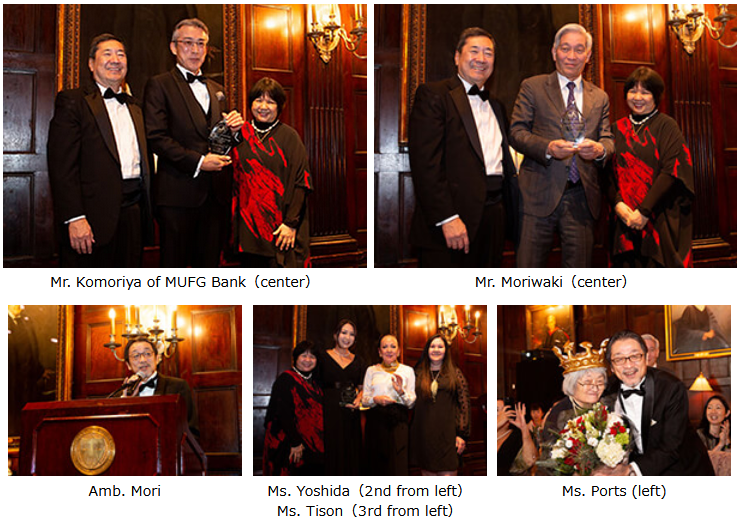 At the 115th Annual Gala, JAA's many years of community service were celebrated, and a remarkable few were honored. Starting off with a warm welcome from JAA President Koji Sato, Ambassador Mikio Mori offered congratulations and commended JAA for providing social services and cross-cultural opportunities to the Japanese and Japanese American community.
2022 Community Leadership awards were given out to JAA Life Trustee, Gary S. Moriwaki, and MUFG Bank, Ltd.
Mr. Moriwaki has strengthened JAA's connections with Japan by coordinating aid while in Tohoku after the March 11 Tsunami tragedy. He also expanded JAA's network with key individuals and corporations, and its scholarship programs, during his tenure as JAA President (2008-2013).
With great heart, MUFG Bank, Ltd.'s leadership and employees have provided tremendous support for JAA's community efforts, especially of the Consulate General of Japan in New York-JAA's community volunteer events on 3.11 and 9/11, and support for the Japan Parade.
Having been the first JAA Gala since 2019, it was also an occasion to present awards to the 2020 JAA Gala honorees for their work on Project Bento: Susan McCormac, JAA Vice President and founder of Japan Culture- NYC, Erina Yoshida of the Yoshida Restaurant Group and Rona Tison of ITO EN. During the height of the pandemic, they created a large network of volunteers and Japanese restaurants (with over a thousand bento lunches provided by Sunrise Mart) to provide free bentos and tea to seniors in the Japanese and Japanese American community throughout NYC.
Another important milestone was celebrated: the "Beiju" birthday of Suki Terada Ports, a pillar of the community.
Wonderful musical performers included the New York Mixed Chorus (NYMC) and Kuni Mikami and his band, with Meg Johnston on vocal. JAA is truly grateful to the many important contributors to its main fundraiser for the year.
List of the generous sponsorship of the Gala are under.
The 28th JAA Charity Golf Tournament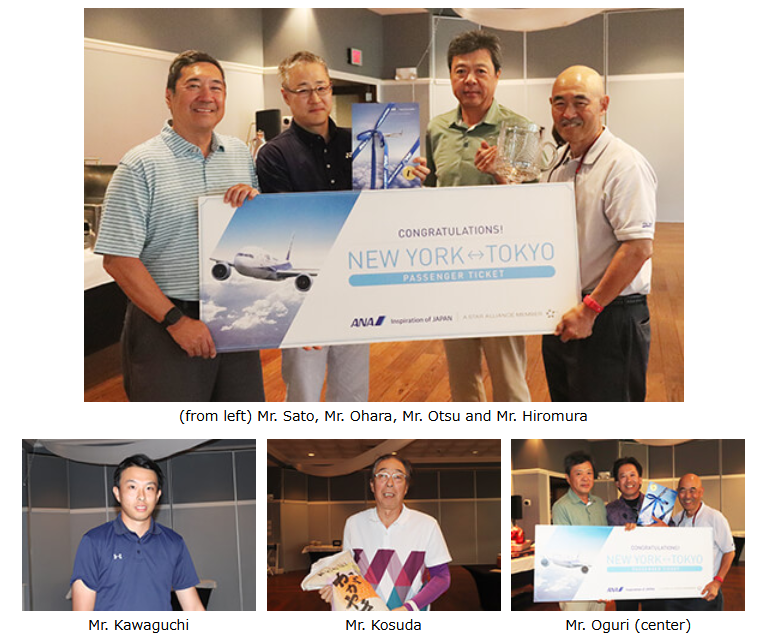 The JAA Golf Tournament brought out wonderful supporters and fantastic weather to Harbor Links Golf Course! Because of the generosity of corporations like our main sponsor, All Nippon Airways, and private donors, nearly $10,000 was raised for JAA.
Among 80 participants, Mr. Ryo Ohara was crowned the winner. Mr. Ohara was presented with the winner's cup and the prize "ANA JFK – Tokyo round-trip business class ticket" by ANA Senior Sales Manager Yoshiharu Otsu. Mr. Yuji Kawaguchi took second place and Mr. Shige Kosuda took third place. The Best Gross Men's category went to Mr. Kirk Oguri and the women's category went to Ms. Kayo Suzuki. Many luxurious prizes were exhibited, and it was a great success, with sales of $6,100, and the grand prize "ANA JFK – Tokyo round-trip business class ticket" was won by Mr. Kirk Oguri, and the prize was handed over by Senior Sales Manager Otsu. The first prize in the raffle was won by Mr. Toyokazu Matsumoto for the "U.S. Domestic Flight provided by IACE Travel (Chairman Keiko Ishida). Chairman Ishida presented him with a ticket. At the end, David Hiromura, Chairman of the Tournament Committee, expressed his gratitude to the participants, sponsoring companies, and individuals, and promised to meet again at the next tournament, and the tournament ended successfully. The participants left the venue with souvenirs from sponsoring companies in their hands.
The 16th Autumn Health Fair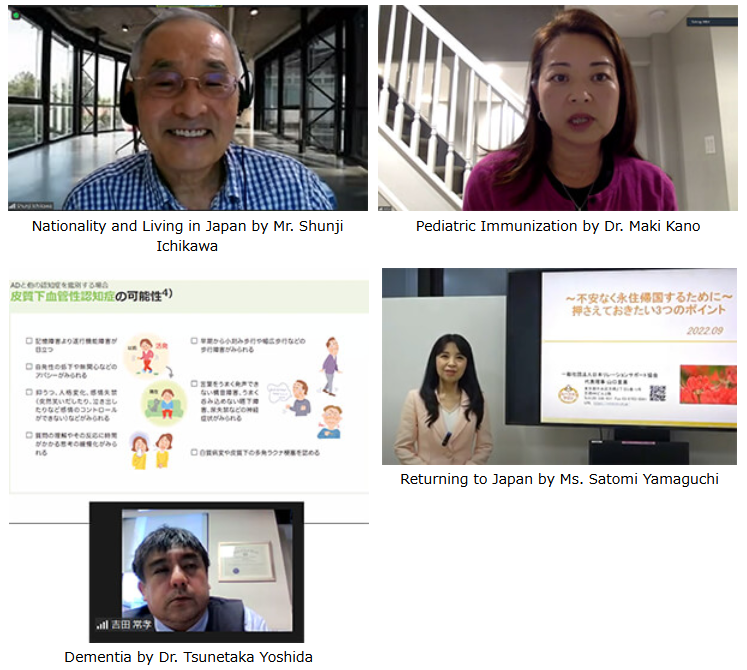 This year's Autumn Health Fair offered 50 programs online (ZOOM and YouTube) and via telephone from Friday, September 9 to October 5, 2022. Due to water damage at JAA, we were unable to use JAA Hall. Under our theme " To live a healthy and secure life now with COVID-19" we provided Social Welfare assistance to our seniors, parenting education for new families, safety from hate crime, workshops and lectures, and consultations on mental health. We also provided programs on Japanese American history, lectures and consultation on legal matters such as immigration, wills and other concerns. We had a total of 2,100 participants. For this year's health fairs, we had many participants from all over the US, Europe, and Asia, including Japan because we conducted the health fair virtually.
9/11 Community service
JAA, the Consulate General of Japan in New York and other Japan-related community members volunteered on September11, making it a day of service and connection with other communities. Volunteers distributed to-go meals at St. Bart's-New York City, delivered Rosh Hashanah packages for DOROT seniors and, led by JAA President Koji Sato and Consul Tomoe Sato, hundreds of meal kits were packaged on board the Intrepid Museum, which will go to Food Bank For New York City and City Harvest. Thank you to all the organizations and individuals who represented the Japanese and Asian American community in remembering those lost on 9/11 and in contributing to a brighter future.
Volunteers: Eiko Aono, Heidi Cha, Noriko Furuhata Taylor of MUFG, Joyce Grossbard, Yumi Higashi-Ho, Yuji Horimoto of Hoshuko Alumni Association, Akira Imai, Hideyuki Ishii, Christy Jones, Yuki Kaneshige, Keiko Masubuchi, Mika Matsutani, Kenji Nakano of The New York Japanese-American Lions Club, Kenzou Shimizu, Mr. and Mrs. Katsuo Takeda, Jennifer Takaki, Deanna Ting.
*20 years ago, JAA established the JAA September 11 Relief Fund. By the end of that same year, we collected $550,000. We donated $25,000 to the victims and local restaurants, and then JAA Vice President Toshio Kiso presented $500,000 to the Twin Tower Fund established by then NYC Mayor Rudolph Giuliani.
The 36th JAA Foreign Minister's Cup Baseball Tournament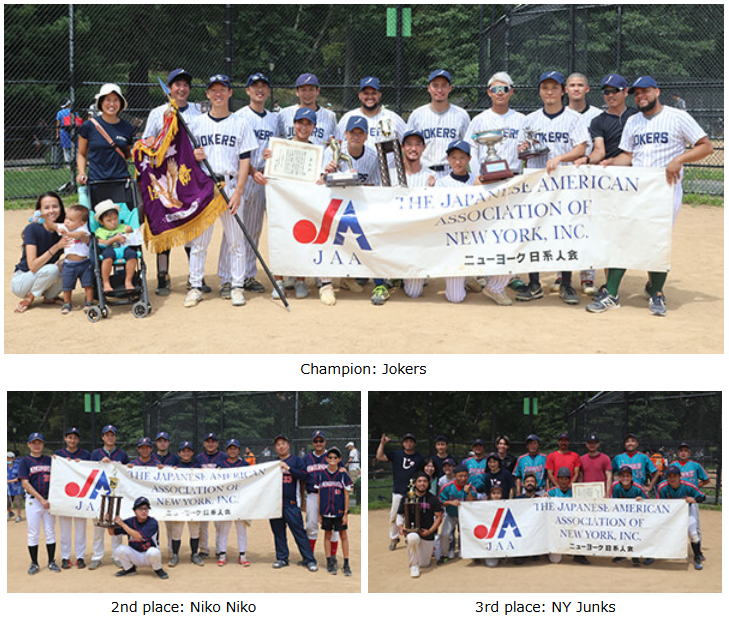 The finals of the 36th JAA Foreign Minister's Cup Baseball Tournament were held on Sunday, August 14 at Central Park. The Jokers defeated Niko Niko for their championship. The tournament began in May with 13 participating teams.
2022 NYC Tanabata Festival
A great many people and stars came out for the 6th annual NYC Tanabata Festival on July 9th! This Japanese summertime tradition in Carl Schurz Park, NYC is definitely catching on here, and was enjoyed by hundreds of happy passersby and members of the Japan-related community which included members of co-organizers JAA and Amateur Astronomers Association (Stann Honda), with support from the Consulate General of Japan in New York (Ambassador Miko Mori) , plus new performers and participating groups such as ZAJA•NYC. The night consisted of beautiful songs by The New York Mixed Chorus; kamishibai-storytelling of the Tanabata legend of two star-crossed lovers by Consul Tomoe Sato; tanzaku-paper wish-making and origami placed on bamboo branches by the Origami Therapy Association; rousing dances by Bon Dan-NYC which people couldn't help but jump into; viewing the stars through AAA's serious telescopes, and words of welcome from organizers.
See you next year, come in yukata or cosplay, on the Saturday following the July 4th weekend. Thank you to all the organizers, volunteers, participants and visitors to this family-friendly community event: Stan Honda, Ann Levine, Thomas Haeberle, Ambassador Mikio Mori, Michiyo Noda, Koji Sato, Vice Consul Tomoe Sato, Motoko Shimizu, Suki Terada Ports, Yuki Kaneshige, Toshiko Kobayashi, Tricia Shimomura, Kenji Nakano, John Akahoshi, Jennifer Takaki, Mari Morimoto, Consul Kenju Murakami, Consul Natsuko Oku, Yasushi Sasaki, Gerald DeMattia, Liezl Gamboa, Susan McCormac, Yumi Tanaka, George Hirose, Kodansha US for the donation of origami books, and Anime NYC for having told fans about us!
The 150th anniversary of US-Japan Baseball relations
On August 25, Ambassador Mikio Mori, Consul General of Japan in New York, threw out the first pitch at Citi Field, home of the Mets, to commemorate the 150th anniversary of baseball to Japan by the United States. The catcher was former Mets player Masato Yoshii. When the ball landed in the mitt, there were loud cheers.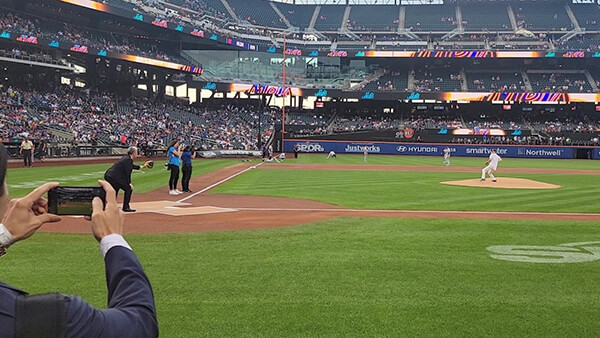 On November 9th, the 150th anniversary of US-Japan Baseball relations was the discussion topic for all-star panelists: Hideki Matsui, Josh Rawitch of the National Baseball Hall of Fame and Museum, Brad Lefton and Matt Murton, moderated beautifully by JAA Vice President Susan McCormac who is also a professional in the field of baseball. With humor and insight, they exchanged stories of bilateral and community bonds strengthened by baseball, and their hopes for its future. Organized by the Consulate General of Japan in New York, U.S.-Japan Council, with The Japan Foundation. Special thanks to Liezl Gamboa of the consulate for having made the lovely boards on the history of Japanese baseball.
"Hope Against Hate Campaign"
with Asian American Federation & JAA
June to September:"Counseling for those who feel harassed, victimized, or anxious about being Asian" by Nora Kohli (International Psychiatric Social Worker).
August 4 & October 5:"Online Training for Hate Crime: Guidance on understanding the situation and behavior when faced with a crime and how to prepare for it.
September 26:Online Lecture "How to Deal with Trauma" by Nora Kohli (Clinical Social Worker)"
September 29 & December 8:Online Lecture "Hate Crime Victims ~ How to Face Fear and Anxiety" by Kaori Nagao & Ayaka Matsushima (Womankind)
Online Autumn JAA Japanese Language Committee Workshop

"The Autumn JAA Japanese Language Workshop" was held on Saturday, October 22 from 10 am to 12 pm via Zoom. There were 50 participants from Japan, the United States and other countries. The theme was "SOGIESC (Sexual Orientation, Gender Identity and Expression, and Sex Characteristics) in inclusive Japanese Language education.
This inclusiveness means aiming for quality education without being bound by gender and sexuality orientations.
On the day of the event, participants were divided into groups and learned about vocabulary such as "husband, wife, partner" used in Japanese textbooks. We discussed the problems with such as "masculine and feminine" expressions in the classrooms so that the teacher does not have a biased view. It is necessary to be aware of the diversity of people. Also, with the spread of anime, students want to freely express their own personality (masculinity, femininity). In order for students to go out into society and not feel uncomfortable, it would be desirable to acquire the ability to use Japanese correctly, depending on the situation and the person with whom. This workshop was a good opportunity to look at society and think about deepening our understanding of human diversity on a daily basis. This is a theme that is of great interest to the participants, and we would like to continue it in the future.
(JAA Japanese Language Committee Chairman Nobuko Kodama)
JAA Women in Business Committee
On November 18, in a webinar lecture titled, "Where is America Headed: Analyzing the US Midterm Election and Trump's Candidacy," international journalist Keiko Tsuyama explained in an easy-to-understand manner the future direction of the United States and the future of the 2024 presidential election based on the results of the midterm elections.
Keirokai & Social Service Committee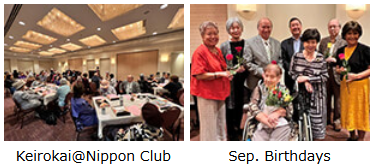 ◎September 22, we were able to hold a Kerokai at the Nippon Club to coincide with the Japan's "Keiro no hi" (Respect for the Aged Day). JAA would like to thank Mr. Masaaki Maeda, Vice President and Secretary of the Nippon Club for his consideration. On the day of the event, everyone enjoyed 110 signature bento boxes from the Nippon Club.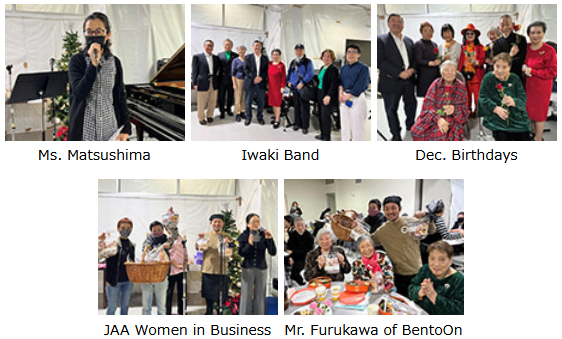 ◎The Year-end Keirokai was held on December 8 at JAA Hall. We prepared 120 BentOn characteristic bento boxes for seniors to eat at JAA Hall, delivery and pickup. The JAA Women in Business Committee presented everyone with a BentOn special food kit. BentOn President Toru Furukawa also participated and said that he would like to continue to support JAA's senior programs. We also held a birthday party for those born in December. The members of Iwaki Band were Kiichi Iwaki, leader and on violin, Koji on piano and vocal, singers were Reiko Ohsumi, Yukio Takeda, Tsugie Watanabe & Shinzo Yonezawa.
At the beginning of the event, Ms. Ayaka Matsushima (Womankind) talked about "How to function when you are effected by a hate crime." This senior citizen party was supported by the Mitsui Foundation of America. Keirokai were also held on October 20 and November 17.
---


Keirokai were also held July 14 & 28, October 20 and November 17.
---
2022 Holiday Party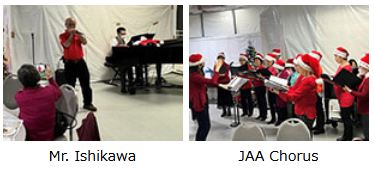 On December 16 (Fri), "JAA's Annual Holiday Party" was held. Under the Christmas tree decorated by Ms. Shizuko Kato, we enjoyed the songs of the JAA Chorus, the jazz piano of Mr. Kuni Mikami, and the songs and harmonica played by Mr. Norimichi Ishikawa. Also Mr. Yukio Takeda and Mr. Hideo Watanabe sang several Japanese songs. There were 40 participants and everyone enjoyed the wine and food with smiles on their faces.
---
Members News
・JAA congratulates Mr. Takeshi Furumoto, a longtime Board Member and Japanese American activist, who was honored with the Order of the Rising Sun, Silver Rays, on June 28, 2022. He has been tireless in educating people about the past (such as the WWII Japanese American incarceration camps where he was born and championing the creation of the Fred T. Korematsu Day of Civil Liberties and the Constitution NYC and in Fort Lee, NJ), to prevent future human rights travesties.
・Ms. Sachiyo Ito (head of the Sachiyo Ito Dance Company), who has been active as a Japanese traditional dancer in New York for many years, ended the Salon Series that has been running for 25 years. They entertained everyone with their high-quality creative dances. Thank you very much.
Schedule in 2023
Free Telephone Consultation
JAA provides free telephone consultations by professionals for everyone in the community.
Legal consultation on wills and other topics by Helen Irie, Esq. and Reiko Takikawa, Esq. on 4th Thursday of odd months
Legal consultation (excluding immigration law) by Reiko Kasano, Esq. on 2nd Thursday of even months
Legal consultation on immigration law by Keiko Kato, Esq.; Katsumi Miki, Esq.; and Mami Terai, Esq. on 3rd Thursday of every month
Free Hair Cut Service by hairstylist Michi Tahara, Shige Kosuda, Nori Sasaki, Yasuko Tsuda, Kazunori Ueda, Haruka Kobayashi and Yusuke Akimoto on 2nd Monday of every month
March -April : Spring Japanese Language Education Workshop on ZOOM
April 8 (Sat.)- April 30 (Sun.): 15th Sakura Health Fair
April to August on Sunday mornings: the 37th JAA Foreign Minister's Cup Baseball Tournament
April 22 (Sat.): the 18th Sakura Matsuri
May 11 (Thurs.) – 20 (Sat.) the JAA 27th Art Exhibition
May 13 (Sat.): Japan Parade
May 29 (Mon.): Memorial Day Services at Japanese Cemeteries at Mt Olivet Cemetery
June: 53rd JAA Scholarship Award Dinner
Sep. 9 (Sat.) – October 1 (Sun): 17th Autumn Health Fair
Sep. 25 (Mon.): 28th Charity Golf Tournament
Oct.: Japanese Language Fall Workshop
Nov. 4 (Sat.): JAA Grand Bazaar
Dec.: JAA 115th Anniversary Dinner
Dec. 7 (Thurs.): the End of Year Keirokai
Dec. 17 (Fri.): Holiday/Thank You Party with Volunteers

Donation for 2022-2023 We wish to thank the following companies, organizations and individuals for their generous support of the JAA.
115th Anniversary Gala Dinner
Gala Sponsorship
Gold Sponsors ($10,000)
Mitsubishi Corporation (Americas)
MUFG BANK, Ltd.
Orient Corporation of America
Silver Sponsors ($7,500)
ORIX Corporation USA
T.I.C. Restaurant Group
Bronze Sponsors ($5,000)
Furumoto Realty Inc.
Japanese Medical Society of America Inc. (JMSA)
Julie Azuma/George Hirose
Gary S. Moriwaki
Relo Redac Inc.
Donation for 115th Gala Dinner
$8,000 from Toshiko Matsukawa
$6,000 from J.C.C. Fund at Japanese Chamber of Commerce and Industry of New York
$5,000 from Nomura America Foundation and Anonymous
$3,000 from Mitsubishi Gas Chemical America Inc.
$25,000 from The Mitsui U.S.A. Foundation
in support of Case Worker Fellow and Committee on Aging (Spring and Autumn Health Fairs) and in support of JAA's Senior Luncheons and Apple Kids Group.
$4,500 from JCOP 2021 Grant Award
$2,500.00 towards JAA's Keiro-kai Program and $2,000.00 towards JAA's Spring and Autumn Health Fair.
$7,000 from J.C.C. Fund for 9/22 Kairokai and JAA Scholarship
$8,000 from Sumitomo Corporation of America Foundation for 2022 and 2023
Donation of $2,099 from stylists of free haircut
Ms. Michi Tahara, Mr. Shige Kosuda, Mr. Nori Sasaki, Ms. Yasuko Tsuda, Mr. Haruka Kobayashi, Mr. Jimmy Akimoto and Kazunori Ueda who served for 186 seniors.
Ms. Noriko Sengoku passed away on September 30 at a hospital in the city. She was 82 years old. A funeral service was held at the Frank E. Campbell Funeral Home on October 9. See this issue's "The faces of the JAA".
Member Ms. Yoshiko Kurihara passed away at NJ's hospital. She was 75 years old who participated in the Tai Chi classes and Keiroikai. She also volunteered to help with flea markets.

"Pioneer of US-Japan Performing Arts Exchange"
Ms. Noriko Sengoku
Noriko Sengoku was born in Nagoya City, Japan. She has been exposed to the performing arts since middle school. She went on to study English Literature at Nanzan University in 1959, but she was more attracted to the performing arts and this influenced her path during and beyond her college years. She graduated in 1963 and joined the production department of the original Shiki Theater Company, where she learned to work as a producer under Mr. Keita Asari. At that time, there was a big gender gap in the workplace, and she was mainly assigned to lower-level jobs. However, those experiences helped lay a strong foundation for her to achieve success in her career.
In 1968, she came to New York to see and experience Broadway shows, which was her long-held dream. While being a special research student in the theater department of New York University, she went to see Broadway shows almost every day and learned a lot about how real Broadway theatre works.
From 1971 to 1978 she was the New York office manager of the Shiki Theater Company. In 1980 she founded Inter-Arts NY Co. which acted as an agency for US-Japan performing arts exchange and also as a coordinator for Japanese TV and movie productions. During this time, she traveled through 48 states.
Among her works are Yukio Ninagawa's "Medea", the New York performance of Yume no Yuminsha, "The Wizard of Oz", Japanese traditional dance performances, "Kanadehon Hamlet", the North American tour of Awaji Puppet Theater, etc.
She looked back and said "NINAGAWA Macbeth" at the Brooklyn Academy of Music and "Takigi Noh" by Rokuro Umewaka at Central Park as the most memorable performances. "NINAGAWA Macbeth" was also an event commemorating the 30th anniversary of the NY-Tokyo sister city relationship.Although she focused on introducing modern Japanese performing arts as well as Japanese classical performing arts to America, she also worked to introduce American culture to Japan.
In addition to her work as a producer and coordinator, she received a Silver Bell Award for raising funds to help the Lamama Experimental Theatre, off-off-Broadway theater, out of a financial crisis, and the Culture Bridge Award in 2008.
She has held the following responsibilities: Chairman of the Japan-U.S. Performing Arts Partnership, US Researcher of Tokyo New National Theatre, Executive director of the "Performing Arts Japan" program of The Japan Foundation.
After retiring, she spent her time going back and forth between her Manhattan and Upstate homes and enjoyed interacting with her two sons, whom she raised as a single mother. She passed away on September 30th at the age of 83 years old.
(Interview and editing by Eiko Aono)