March 30, 2020 Mayor de Blasio holds a press conference as the US Comfort arrives in NYC (Photo by Steve Sanchez Photos / Shutterstock)
Dear JAA members and friends,
I hope you are all managing to stay safe and healthy while we all hunker down to ride out this unprecedented health and economic crisis. As you may know, for the health and safety of our employees and members, our offices have been closed and are now required to remain closed for the foreseeable future until further notice. However, please know that we are here to help you: Our office number (212-840-6942) is being forwarded to our Executive Director, Mrs. Michiyo Noda. Please do not hesitate to contact us.
While we are going to go through some stressful hard times, we are a resilient group. Our Japanese and Japanese American community has survived numerous disasters and life disruptions in the past and have come out stronger, more resourceful, and more compassionate than before. Together, we will get through this! Please stay in contact by phone, e-mail, and social media with your family, friends, colleagues, and especially, your elderly neighbors. Once things settle down and we get used to a new "normal," we hope to have a network of volunteers who are willing and eager to run errands and make deliveries for those who are homebound. Please let us know if you require such help or know someone who does.
At times like this, we are reminded how important it is for our community to have access to public services, so please all remember to fill out the census when you receive it in the mail. And for high school senior students whose lives have also been upended, please know that we are accepting applications for our JAA Scholarship through May 4, 2020. While many of our activities and events had to be cancelled, we are busy planning activities to take place later in the year—we all need something to look forward to!
Thank you for all your support and caring. Please all be kind to each other during this difficult time, and please do not hesitate to let us know if you need anything or just want to chat!
With warmest regards,
Susan J. Onuma
Informations about Covid-19
JAA Annual General Meeting
Our Annual General Meeting was held on January 29, 2020. The meeting began with the seventh term address by JAA President Susan J. Onuma, followed by the financial report and the introduction of the Honorary Officers and JAA officers for 2020.
2020 Honorary Officers, Officers, Directors and Chairpersons
Honorary Officers
Honorary Advisor:Ambassador Kanji Yamanouchi
Consulate General of Japan in New York
Honorary Members:Katsurao Yoshimori-
President, Japanese Chamber of Commerce and Industry of New York
Masaki Nakajima- President, The Nippon Club
Life Trustees:Robert K. Emy, M.D., Toshio Kiso, Noboru Sato
Honorary Director: Seiko Oshima
Honorary President:Gary S. Moriwaki
Officers
President: Susan J. Onuma
Vice Presidents: Yuzuru Anzai, M.D.; Julie Azuma; David Hiromura; Shunichi Homma, M.D.;
Keiko Ishida; Riki Ito; Makoto Iwahara, M.D.; Yuki Kaneshige; Susan McCormac;
Tsuneko Mitsunaka; Satoru Murase; Hiroko Onoyama; Joe Oshima; Suki Terada Ports;
Kamal Ramani, M.D.; Koji Sato; Katsuo Takeda
Secretary: Susan McCormac
Assistant Secretary: Julie Azuma
Treasurer: David Hiromura
Assistant Treasurer: Masaki Shimomura
Directors
Yuzuru Anzai, M.D.; Julie Azuma; Tak Furumoto; Kumiko Hasegawa; David Hiromura; George Hirose;
Shunichi Homma, M.D.; Keiko Ishida; Riki Ito; Makoto Iwahara, M.D.; Yuki Kaneshige;
Mari Kano-Lueckerath, M.D.; Shuji Kato; Nobuko Kodama; Susan McCormac; Kuni Mikami;
Tsuneko Mitsunaka; Gary S. Moriwaki; Satoru Murase; Michiyo Noda; Takeo Ohashi;
Kimihiko Oishi, M.D.; Toru Okamoto Hiroko Onoyama; Susan J. Onuma; Joe Oshima;
Suki Terada Ports; Kamal Ramani, M.D.; Yoko Sasaki; Koji Sato; Matsuko Shibuya;
Masaki Shimomura; Michi Tahara; Wendy Takahisa; Katsuo Takeda; Nozomi Terao; Shuji Bon Yagi;
Robert Yanagisawa, M.D
38 directors
Committee Chairpersons
Standing Committees
Planning & Finance: David Hiromura, Katsuo Takeda
Membership-Corporate: Satoru Murase
Membership-Individual: Julie Azuma, Tsuneko Mitsunaka
Communications (JAA News, Brochure & Web): Susan McCormac, Yuki Kaneshige (Facebook), Michiyo Noda
Archives: Julie Azuma, Michiyo Noda
Social Service: Riki Ito, Suki Terada Ports, Yoko Sasaki
Scholarship: Satoru Murase, Claire Mitsuru Chino
House: Gary S. Moriwaki, Tak Furumoto
Legal: Gary Moriwaki
Special Committees
External Affairs: Julie Azuma, Suki T. Ports, Katsuo Takeda, George Hirose
Audit: Kumiko Hasegawa
Honjo Scholarship: Gary S. Moriwaki
Art Exhibition: JAA Office
Sports & Baseball Tournament: Shuji Kato, Dr. Kamal Ramani
Memorial Day Service: Katsuo Takeda
Japanese Language: Nobuko Kodama
Charity Golf: David Hiromura, Michi Tahara, Koji Sato
Bazaar/Flea Market: JAA Office
Sakura Matsuri: Susan McCormac
Committee on Aging Issues: Susan J. Onuma, Michiyo Noda
JAA Women in Business Committee: Keiko Ishida, Tsuneko Mitsunaka, Kumiko Hasegawa
Apple Kids: Kuni Mikami
Young Professionals Committee: Yuki Kaneshige
Special Events
☆113rd JAA Gala Dinner 2020: Hiroko Onoyama, Susan J. Onuma, Koji Sato
☆Holiday Party honoring JAA Volunteers: Tsuneko Mitsunaka
☆ Tanabata Festival: Suki Terada Ports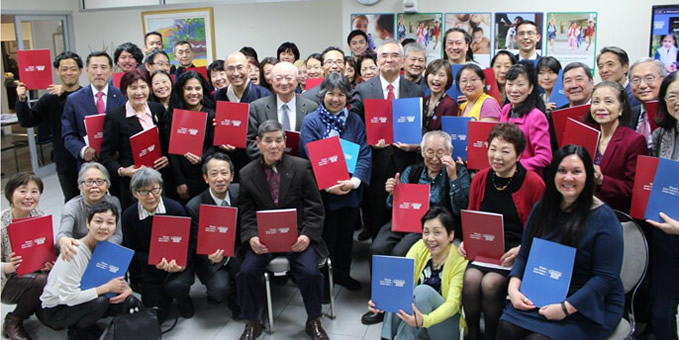 Census 2020 Kickoff Party
A kickoff party to promote participation in the 2020 census was held jointly by JAA, JMSA, JAMSNET and JACL-NY, bringing together 70 people to JAA Hall on February 26. After greetings from our President Susan J. Onuma and Ambassador Kanji Yamanouchi, Ken Baxter and Asuka Kobayashi Prestia from the Census Office spoke about the importance of the census. Mr. Motohiro Sato (Japanese Chamber of Commerce and Industry of New York and The Nippon Club), Dr. Robert Yanagisawa (JMSA), Mr. Yoshio Kano (JAMSNET), and Mr. George Hirose (JACL-NY), Mr. Katsuo Takeda (Kenjinkai), Ms. Mari Morimoto (Japanese American Lions Club), Ms. Ryoko Mochizuki (JASSI), and Asian American Federation greeted the guests.
A "Census Response Request" has been mailed to each family. There are three ways to respond: ①Online ② By mail ③Phone. The government aggregates the population from this survey to determine the language used in public facilities and the allocation of resources to each community. Accurately counting the population of Japanese and Japanese Americans will lead to improved services to Japanese and Japanese American communities. Your answers will be kept confidential and will not be shared with immigration, police, or other government agencies. Please cooperate since it's easy.
3/11 Community Volunteers Origami Event
At what turned out to be our last group event with the Japanese Consulate for the foreseeable future, JAA commemorated 3.11 in the Japan-related community by bringing together those who wished to make gifts for New Yorkers in need. With energetic, well-washed hands, we made nearly a thousand cranes that were given away at Food Bank for NYC, St. Bart's Church and from Coalition for the Homeless mobile food vans.
Thank you to all the volunteers including origami rock stars such as Ambassador Kanji Yamanouchi, Mrs. Yukiko Yamanouchi, and Japan Society President Dr. Joshua Walker, and the many organizations that joined in this community effort, especially MUFG Union Bank for their generous funding and constant support. We deeply appreciated Mitsui USA Foundation's surprise donation as well, and the participation of JETAANY, JETAAUSA, Japan Society, The Hoshuko Alumni Association, NY Japanese American Lions Club, Morgan Stanley, Japan Culture-NYC, JAJA and others.
2020 New Year Reception at the Nippon Club
This annual event sponsored by the Consulate General and co-sponsored by JAA, The Nippon Club, and the Japanese Chamber of Commerce and Industry of NY was held on January 10th at The Nippon Club with more than 200 people in attendance. Greetings were given by Ambassador Kanji Yamanouchi, Mr. Katsurao Yoshimori of JCCI, Mr. Masaki Nakajima of The Nippon Club and JAA President Susan J. Onuma.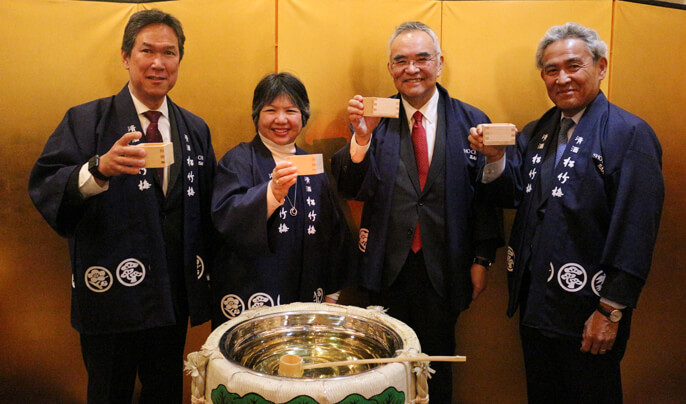 (l to r ) Mr. Nakajima, Ms. Onuma, Amb.Yamanouchi and Mr. Yoshimori
The Nippon Club's 29th New Year Luncheon for Seniors
This 29th annual "New Year Luncheon for Seniors" was hosted by The Nippon Club and supported by the Japanese Chamber of Commerce and Industry in NY on January 23rd. Traditional New Year delicacies were beautifully arranged for the 80 senior guests. Mr. Motohiro Satoh, Executive Director of The Nippon Club, gave New Year greetings. Guests enjoyed performances by Tozaburo Yanagiya (Rakugo), Sachiyo Ito & Company (Japanese Dance) and The Nippon Club Women's Chorus conducted by Ms. Yoko Ojima.
JAA President Susan J. Onuma gave a thank you speech and presented flowers to Mr. Satoh. 30 packaged lunches were delivered to JAA and JASSI seniors who were unable to attend.
In celebration of New York City's Fred T. Korematsu Day of Civil Liberties and the Constitution on January 30, Tsuru for Solidarity, New York Day of Remembrance, and JACL – New York Chapter partnered with the Center for Constitutional Rights to present a screening of the feature documentary "A Bitter Legacy" by director Ms. Claudia Katayanagi. A full house enjoyed Katayanagi's film, which investigates the camp system's "Citizen Isolation Centers," harsh and secret prisons-within-the-prisons that held those deemed "troublemakers" by the U.S government.
Korematsu was a California native who was arrested and convicted of defying the government's order to go to the incarceration camps during World War II. His conviction was overturned almost 40 years later. On December 19, 2017, the New York City Council unanimously passed Resolution 0792, establishing January 30 as a permanent annual observance of Fred T. Korematsu Day.
JAA Women in Business Committee
January 22: JETRO New York Information Technology Manager, Mr. Kiyoshi Nakazawa, talked about the latest information on startups in New York with a case study of successful businesses founded by Japanese people.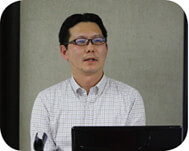 February 28: In "What is the lightest weight management?" Mr. Osamu Yamada, Vice President of Cybozu, a leader in working style reform, discussed the future of managers.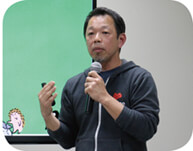 The 35th JAA Foreign Minister Cup
Baseball League
The 50th JAA Scholarships
Since 1971, JAA has awarded scholarships to graduating high school students of Japanese descent who are living in the tri-state area and applying to US institutions of higher learning. The scholarships range from $1,000 to $10,000, with airline tickets to Japan for certain awards. The JAA Scholarship Committee will review the applications, and our 50th JAA Scholarship Award Presentation Dinner will be held on June 2nd at the Harvard Club, 35 West 44th St. New York City.
The scholarship application form is available at www.jaany.org/general_scholarship.html and at the JAA office. The deadline is at noon on May 4. 2020.
JAA Membership renewal and emergency contact registration!
In mid-December last year, we sent out a JAA membership renewal application form for 2020, and many members have renewed. Thank you very much. If you haven't, please send it by the end of May. Emergency contact information in the United States and Japan is becoming more important as our members age, so keep up to date. If you haven't received your renewal form yet, please contact the JAA office at (212) 840-6942.
Mr. Gary Shunichi Moriwaki, Honorary President of JAA, was awarded the Order of the Rising Sun, Gold Rays with Rosette by the Japanese Government. Ninety guests attended the January 24th ceremony at the Japanese Ambassador's residence. Among the speakers was former baseball player and manager Mr. Bobby Valentine, who visited Japan with Mr. Moriwaki to support the recovery effort of the Great East Japan Earthquake. Mr. Moriwaki thanked his father, Minoru, and his mother, Hana, who were incarcerated in a camp during WWII. He said, " I would like to continue to pursue American dreams together." Congratulations!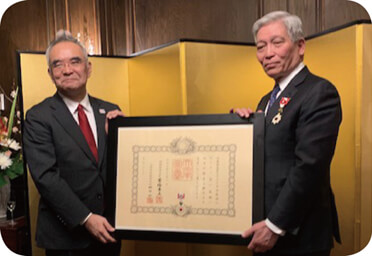 Mr. Shuji Bon Yagi, JAA director, was awarded the Order of the Rising Sun, Gold and Silver Rays by the Japanese Government. A celebration reception was held at the Japanese Ambassador's residence on February 7th. Mr. Yagi started out in the vegetable wholesale business in 1976 and currently operates 16 restaurants. In 2017, he was awarded the Minister of Agriculture, Forestry and Fisheries Award for his outstanding contribution to the expansion of the Japanese food market. He is one of the strongest supporters of the community and JAA. Congratulations!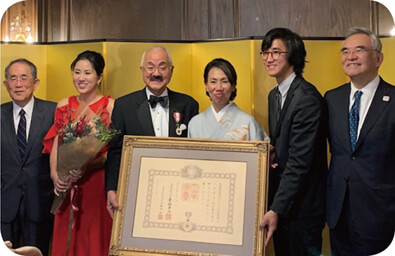 IACE Travel ( Chairman/CEO Ms. Keiko Ishida) celebrated their own 50th Anniversary with 80 guests on February 12, 2020 at the Nippon Club. Ms. Ishida is JAA's vice president and chairperson of JAA Women in Business group.
Ms. Suki Terada Ports, Vice President of JAA, was recognized for her activism and work with integrating early childhood public education, keeping Columbia's gym out of Morningside Park and AIDS education. Ms. Susan J. Onuma and Ms. Marianne Yoshioka, Smith College Dean of the School of Social Work, attended the ceremony.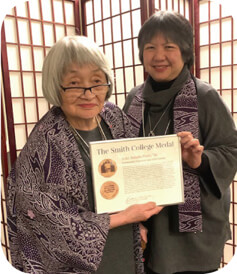 JAA member Ms. Yoshie Fujita turned 100 years old on February 2nd. Her birthday celebration was held at Isabella House where she has lived for the last 12 years. The Prime Minister of Japan awarded her a congratulatory certificate and a commemorative silver cup. Ms. Fujita was born in the US, grew up in Japan with her relatives, and returned to the US after the war. She married Mr. Fujita from Wakayama in New York. She participated in JAA's handicraft club and made many items for the flea market and bazaar.
The National Association of State Departments on Aging and Disability has established the "Jeanette Takamura Award" for outstanding leadership in caregiving policy and program development. The award will be presented annually at their national conference. Ms. Jeanette Takamura (MSW, PhD) is Dean Emerita of the Faculty of Social Work, Professor of Gerontology and Social Policy at Columbia University School of Social Work.
February Keirokai on Feb. 13 and 27.
JAA Seniors enjoyed delicious beef on rice dish on Feb. 13th. The memorial for Mr. Yasushi Suzuki, who passed away on January 21st, was held.
Hinamatsuri Keirokai was held on Feb. 27th. Mrs. Shizuko Kato displayed JAA's traditional Ohinasama Dolls in JAA Hall. Seniors enjoyed unagi chirashi and Japanese songs with the Iwaki Band.
There was no Keirokai in March due to the Coronavirus pandemic.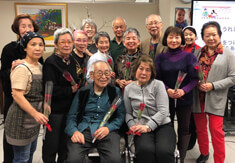 Irene Hirano Inouye (October 28, 1948 – April 7, 2020)
It is with great sadness that we report the passing of Irene Hirano Inouye, widow of the late Senator Daniel Inouye, after a long illness. Many of us at JAA knew and worked with Irene during her 20-year tenure as President of the Japanese American National Museum and more recently as President of the U.S.-Japan Council. Irene was known for her extraordinary leadership skills in both the Japanese American community and in US-Japan relations. She was a visionary who created an international network based on people-to-people connections from all walks of life. The networks will live on as her legacy. She was a true inspiration for all of us and will be sorely missed.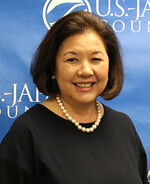 Mr. Yasushi Suzuki died on January 21st at the age of 73. As a member of the Iwaki Band, Mr. Suzuki delighted seniors with his great work as the M.C. and his deep bass singing voice. After visiting New York at the age of 19, Suzuki returned to Japan, where he was in charge of textile design at Issei Miyake's company and gained attention as a brilliant young designer. He returned to the US in 1969, where he worked as a textile designer chief at an American company and became a well known figure on 7th Avenue. In 1971, he married his wife, Kiyoko, and had twin sons. He retired at the age of 50 and enjoyed painting and singing. His last words were, "It was a fun life." A memorial was held in his honor at the February 13th Keirokai.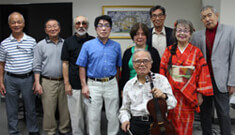 Mr. Suzuki (on the right) and Iwaki Band
Regularly scheduled events & programs
Senior Luncheon: Twice a month 2nd & 4th Thursday
Apple Kids: Rhythmic Class with parents and children on 3rd Friday 10am-12pm
JAA Women in Business Committee (www.jwb-ny.org ) once a month


Free Consultation
JAA provides free consultations by professionals for all the people in the community.

Health and social welfare consultation on the days of senior luncheon
Legal consultation on wills and other topics by Helen Irie, Esq. and Reiko Takikawa, Esq.
on 4th Thursday of odd months
Legal consultation (excluding immigration law) by Reiko Kasano, Esq. on 2nd Thursday of even months
Legal consultation on immigration law by Keiko Kato, Esq.; Katsumi Miki, Esq.; and Mami Terai, Esq. on 3rd Thursday of every month
Tax consultation by Joe Oshima, CPA in February


Free Hair Cut Service

by hairstylist Michi Tahara, Shige Kosuda, Nori Sasaki, Yasuko Tsuda,

Toshi Kubota, and Haruka Kobayashi on 2nd Monday of every month

Schedule in 2020

■Feb. 26 (Thurs.): CENSUS 2020 Kick-Off Reception

■March 7 (Sat.) & 11 (Wed.): 3.11 JAA Volunteers Event

Postponed

☆March 20 (Friday): 2020 Conference "Global Migration and Aging: Toward Successful aging

☆March 26 (Thurs.) and 27 (Friday): CENSUS Workshop

Canceled

●April 4 (Sat.): Spring Flea Market

●April 8 (Thurs.)- April 27 (Mon.): 12th Sakura Health Fair

●April 18 (Sat.): 16th Sakura Matsuri @ Flushing Meadows Corona Park

●April 18 (Sat.): Spring Japanese Language Education Workshop

Postponed

☆April to August on Sunday mornings: the 35th JAA Foreign Minister's Cup Baseball Tournament

☆May 7 (Thurs.) – 23 (Sat.) the JAA 25th Art Exhibition

☆May 10 (Sun.): Japan Day Parade /Japan Day @ Central Park

Scheduled

○May 25 (Mon.): Memorial Day Services at Japanese Cemeteries at Mt Olivet Cemetery

○June 2, (Tuesday): 50th Anniversary of JAA Scholarship Dinner at the Harvard Club

○July 11 (Sat.): 5th Tanabata Festival @ Riverside Park

○Aug. 1 (Sat.): Summer Flea Market

○September 11 (Fri.): 9.11 Volunteers Event

○September 1 (Tues.) – Oct. 4 (Sun.): 14th Autumn Health Week

○September 28 (Mon.): 27th Charity Golf Tournament at the Harbor Links Golf Course

○Oct. 17 (Sat.): Japanese Language Fall Workshop

○Nov. 7 (Sat.): Annual Bazaar

○Dec. 4 (Fri.): JAA 113th Anniversary Dinner at the Harvard Club

○Dec. 10 (Thurs.): End of the Year Keirokai

○Dec. 17 (Thurs.): Holiday/Thank You Party with Volunteers