Contents
The 52nd JAA Scholarship and
the 16th Honjo Scholarship Award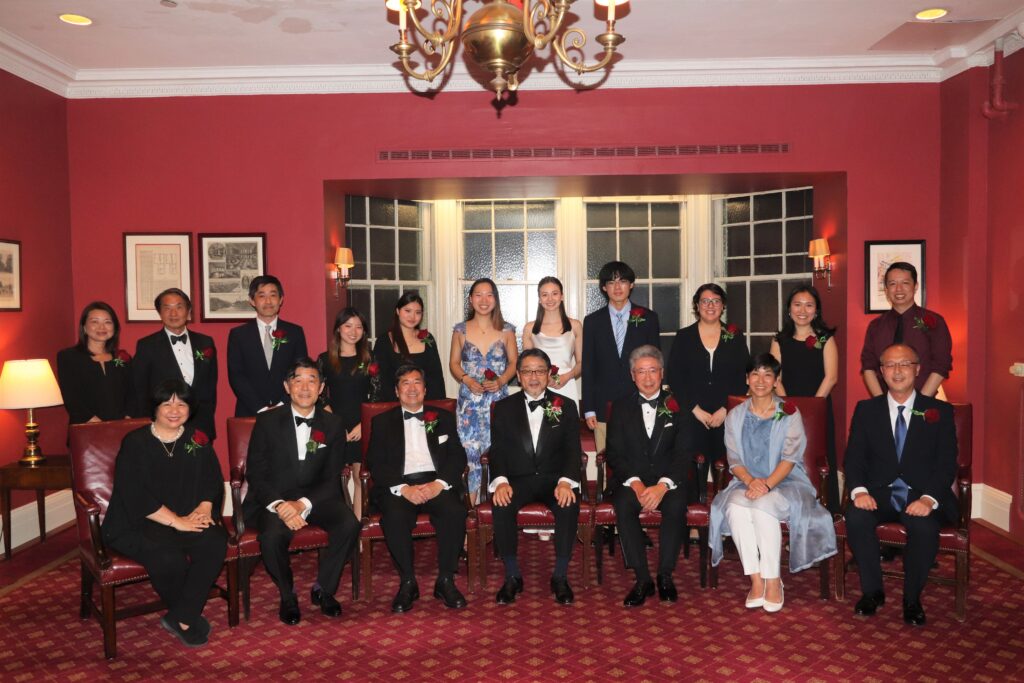 Ten high school seniors and five graduate students were awarded at JAA's Annual Scholarship Dinner held on June 3, 2022 at the Harvard Club. This was our first in-person event post-pandemic and well-attended by 120 guests. JAA President, Mr. Koji Sato, led the evening's program, which included remarks from Ambassador Mikio Mori of the Consulate General of Japan in New York and Mr. Ryoichi Shinke (MUFG Bank, Senior Managing Executive Officer), Co-Chair of the Scholarship Committee.
Key note speaker, Dr. Haruko Wakabayashi of Rutgers University, spoke of the first Japanese samurai who arrived in the U.S. in the late 1800s. She encouraged the awardees to "kick your way through the vast ocean" in reaching for their dreams, as one of the first Japanese exchange students was advised by his father before heading to the U.S. In closing, Co-Chair of the Scholarship Committee, Mr. Satoru Murase, expressed gratitude to all the guests, donors, staff and volunteers who made the event possible.
Ten students entering college this fall were awarded a combined total of $52,000 in scholarships and two All Nippon Airways roundtrip tickets to Japan. The Honjo Scholarship Award provided a total of $30,000 to five graduate students. Elisa Joyce Taylor, on behalf of the high school awardees and Nanase Shirokawa, on behalf of the graduate student awardees, expressed their gratitude to the JAA community. Congratulations to all of the scholarship awardees!
List of supporters/donors and awardees are below.

52nd JAA Scholarship Awardees (for graduating high school students)
MUFG Scholarship($10,000)
(plus Round Trip Air Ticket to Japan, courtesy of All Nippon Airways)
Elisa Joyce Taylor
Sacred Heart Greenwich, will attend Northwestern University
The Murase Family Scholarship($10,000)
Alexa Mireille Nakanishi
Greenwich High School, will attend Georgetown University
Dr. Soji Tomikawa Scholarship ($7,500)
Hiroshi Yamaguchi Wang
Benjamin N. Cardozo High School, will attend Georgia Institute of Technology
Orient Corporation of America Scholarship($5,000)
Naomi Lillian Yu
Jericho High School, will attend University of Pennsylvania
Ichinohe & Horishige Scholarship($5,000)
Minato Shinoda
Bergen County Academies, will attend Georgetown University
Toshiko Matsukawa Scholarship($5,000)
Aaron Kano Glassman
Columbia High School, will attend New York University Stern School of Business
TV Japan Scholarship($3,000)
Dylan Kamui Gill
Columbia High School, will attend New York University – Tisch School of the Arts
Ambassador Shinichi Nishimiya Scholarship($3,000)
Alisa Mariko Kodama Urgent
Bloomfield High School, will attend University of Southern California
Moto Saito Scholarship($2,500)
Tyler Tanaka-Wong
Bronxville High School, will attend Northwestern University
ANA Japan Travel Scholarship
($1,000 plus Round Trip Air Ticket to Japan, courtesy of All Nippon Airways)
Daniel Hiro Shirley
Northern Highlands Regional High School, will attend Tufts University
16th JAA Honjo Scholarships Awardees
Nanase Shirokawa, graduate of Williams College, is attending the Massachusetts Institute of Technology (MIT)'s School of Architecture and Planning. $7,500
Kento Tamaki, graduate of University of Tokyo, will be studying international relations at Georgetown University's School of Foreign Service. $7,500
Michael Li, graduate of Boston University, is studying for his Ph.D. at the University of Connecticut in School Psychology. $5,000
Kimberly Martinez, graduate of CUNY, Hunter College, is working on her Master's Degree in Japanese Literature at Columbia University's Department of East Asian Languages and Cultures. $5,000
Maho Miyazaki, graduate of Kyoto University, is studying for her Ph.D. in Japanese Literature with a focus on Noh theater at Columbia University's Department of East Asian Languages and Cultures. $5,000
2022 Annual JAA Scholarship Dinner Benefactors
Gold Sponsors:
Deloitte LLP
MUFG Bank, Ltd.
Hiroko & Satoru Murase
Relo Redac, Inc.
Silver Sponsors:
Gary S. Moriwaki & Susan J. Onuma
Japanese Medical Society of America, Inc.
Nagase Holdings America Corporation
NY MIDTOWN OB/GYN PLLC (Dr. Anzai)
Orient Corporation of America
ORIX Corporation USA
Sammy Yu & Akiko Kamata
Supporters :
Mitsui & Co, (U,S,A,), Inc. / Sumitomo Mitsui Trust Bank
Mitsubishi Corporation (Americas), / CHINO, Mitsuru
Itochu International, Inc. / KAKUTA, Eri / Tokio Marine America
HSIA, Reiko / Daikin U.S. Corporation
Nomura Holding America Inc. / Sompo International
Daiwa Capital Markets America Holdings Inc.
Ito, Mary / KATO, Shizuko / Marubeni America Corporation
Mizuho Americas / Sumitomo Chemical America, Inc. / Hirose, George
KORN, Chizuko / NISHIBAYASHI, Yosuke / TAKEDA, Katsuo
Nippon Life Americas, Inc. / The Norinchukin Bank / IWAMA, Midori
SHIMOMURA, Masaki
2022 52nd JAA General Scholarship Committee
Co-Chairpersons:Ryoichi Shinke and Satoru Murase
Members:Nobuhisa Ishizuka, Makoto Iwahara
Maki Kano Lueckerath, Susan J. Onuma,Koji Sato
2022 16th JAA Honjo Scholarship Committee
Chairperson:Gary S. Moriwaki
Members:Yuzuru Anzai, Susan J. Onuma, Koji Sato, Katsuo Takeda
The 17th Sakura Matsuri
On April 30, a beautiful sunny day when the Yae cherry blossoms were in full bloom, the 17th Sakura Festival was held at Flushing Meadows-Corona Park, co-sponsored by JAA and the New York City Parks Department. Starting with the dynamic and powerful performance by Soh Daiko on Japanese taiko drums, the audience enjoyed performances by the JAA chorus under the direction of Motomi Tanaka, the Okinawa Club in New York (Ryukyu dance and singing) and the folk dance and Hanagasa Ondo Parade of the Minbuza/Japanese Folk Dance Institute (presided over by Momo Suzuki). Guest speakers included Ambassador Mikio Mori, Consul General of Japan in New York, and Mr. Anthony Sama, Commander of Flushing Meadows-Corona Park. The presence of Mrs. Chieko Inagaki, who supports this event every year, was missed this year. A cherry tree was planted in commemoration of the 30th anniversary of the Japanese Folk Dance Institute. A cherry tree was also planted to express our gratitude to the staff of Flushing Meadows- Corona Park for taking great care of the cherry trees for the past 20 years and in particular during COVID.
Sakura Matsuri Chairperson: Susan McCormack, Advisors: Suki Terada Ports and Susan Onuma, Photographer: George Hirose, Volunteers: Riki Ito, Mike Aida, Kenji Nakano, Yoshinori Takita, Mari Morimoto, and other members of the NY Japanese American Lions Club, Yuki Kaneshige, Hiroko Shimizu, Keiko Nakanishi, Motoe Yakeyama and Michiyo Noda. Donations: Tea from Ito-en, cost of charter bus expenses from JAA vice president, Keiko Ishida and other expenses by Sakura Matsuri Chairperson Susan McCormac. Thank you!!
JAA's 14th Annual Sakura Health Fair
From April 9th to May 8th, the 14th Sakura Health Fair was held for all ages with 1,729 people participating in 50 hybrid programs. Takeshi Furumoto's story on "the 80th anniversary of the Japanese American internment camp" on YouTube on April 9th received a great response. There were also an origami workshop by Origami Therapy Association, emotional and physical health guidance, children's medical (dental & eye) and CPR workshop by Sukusuku kai, Palliative advance Care by Japanese SHARE and safety information from the Consulate General of Japan in New York. This fair was sponsored by the JAA Committee on Aging Issues, JAMSNET, the Mitsui Foundation and the Japanese Medical Society of America ("JMSA"), with support from the Consulate General of Japan in New York.
First Japan Parade in New York
On Saturday, May 14, JAA took part in the first Japan Parade! We were honored to be a part of this amazing community event. In addition to 30 members walking with us as JAA (we all wore T-shirts with the pink and white JAA logo), a group of baseball players representing the teams of the JAA Foreign Minister's Cup Baseball Tournament marched. Veteran Tak Furumoto marched with former JAA President Gary Moriwaki, who carried the Go For Broke flag. It was a great day for the Japanese and Japanese American community in New York! And the threatened rain held off just long enough …
The 26th JAA Art Exhibition of Japanese
and Japanese American Artists in New York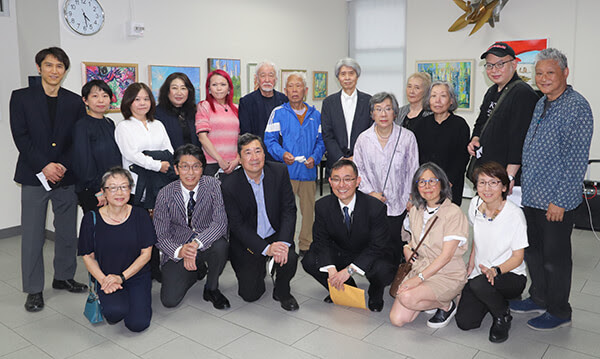 This year's Art Exhibition was held at JAA Hall from May 12 to 21, 2022. This annual exhibition was started in 1996 with the participation of 26 artists, of whom eight artists (Ushio Shinohara, Hiromitsu Morimoto, Masaaki Noda, Masaaki Sato, Shunji Sakuyama, Kenjiro Sasaki, Junko Yoda, and Toshihisa Yoda ) continue to exhibit their artwork each year. This year, Mariko Kuzumi, Hiroko Ohno, Miki Rokuroda, and Rihomi Sato were newly added, bringing the total to 30 artists who exhibited 58 works of art. The opening reception on May 12th included a welcome by Mr. Koji Sato, JAA President and a greeting from Deputy Consul Kenju Murakami, Director of Japan Information Center. More than 100 mask wearing participants filled the hall as they came to meet the artists and admire their work. JAA is deeply grateful to the Consulate General of Japan in New York, which has been supporting this event since its first exhibition.
JAA Annual Memorial Service
On May 30th, the Japanese memorial service was held at Mt. Olivet Cemetery. JAA President Mr. Koji Sato, Vice President Mr. Katsuo Takeda, Rev. Cheryl Ikemiya and Rev. Isabella Bernard from the New York Buddhist Church and Mr. Yoshinori Takita, president of the New York Japanese-American Lions Club, Ambassador Mikio Mori, Mr. Masahiko Okada, principal of the Greenwich Japanese School of New York, Mr. Toru Okamoto, principal of Japanese Children's Society and volunteers attended the event to pay their respects to their predecessors. Flowers from the Consulate General of Japan in New York, Japanese American Lions club, New York Buddhist Church and JAA were contributed for this ceremony.
3.11 Food Bank For New York City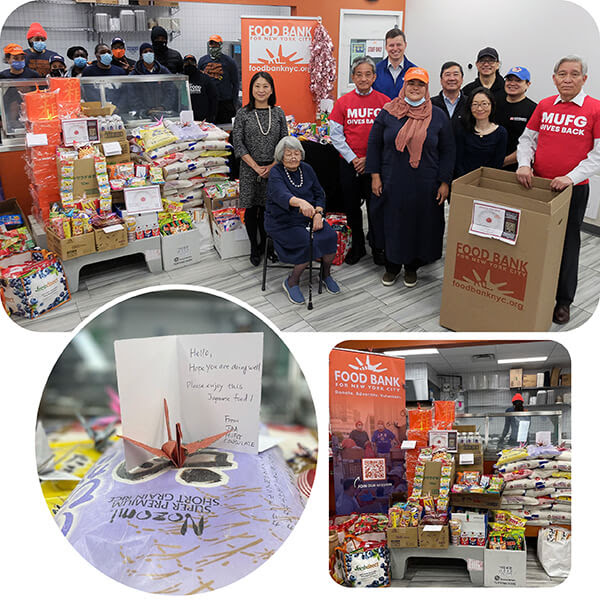 To commemorate 3.11, we were able to contribute over $8,400 worth of food, drink and supplies to Food Bank from the Japan-related community. This food drive was organized by JAA and the Consulate General of Japan in New York and were greatly appreciated by the staff of Food Bank. Ms. Natsuko Oku (Deputy Director, Japan Information Center, Consulate General of Japan), Mr. Kazuo Koshi (Managing Executive Officer, MUFG Bank, Ltd.), Dr. Joshua W. Walker (President, Japan Society), Mr. Koji Sato (President, JAA), Ms. Suki Ports (JAA), Yuki Kaneshige (JAA) and Gary Moriwaki (JAA) were in attendance at the ceremony on March 11th. These donations were given out from their food pantry that week and the 700 pounds of Japanese rice (half of which was from Tohoku) were used for hot meals.
Special thanks for support go to: MUFG BANK Ltd., Mitsui & Co. (U.S.A.), Inc. Mitsubishi Corporation (Americas), Sumitomo Corporation of America, ITO EN (Rona Tison), Japan Society (Joshua W Walker), Bokksu (Danny Taing), Sunrise Mart (the Yoshida family), Dainobu (Kota Muramoto), All Nippon Airways, The New York Japanese-American Lions Club, JMSA: Japanese Medical Society of America, Dr. Takako Takeshige, Shizuko Kato, Jill Cornell
Volunteers / Contributors: JAA/ Michiyo Noda, Naomi Miyakita, Koji Sato, Susan Onuma, Kenji Nakano, Karl Palma, Suki Terada Ports, Gary Moriwaki, Susan McCormac, George Hirose, Hiroko Shimizu, Noriko Furuhata, Taylor Yumi, Higashi-Ho Sandra, Kenny Jewelle Yamada, Eiko Aono, Keiko Nakanishi, Julie Azuma, Marc Iyeki, Shoko Noguchi, Amara Hoshijo, Ezra Berkenwald, Akira Imani, Kyoko Ohnishi, Kathleen Wah Lee, Endo Yu, Akemi Takeda, Dr. Yuzuru Anzai, Elizabeth Clarke, Kristina Bilello, Mary Stack, Yuki Kaneshige, Shukan NY Seikatsu
Consulate General of Japan in NY/ Gerald DeMattia, Hideyuki Ishii, Kenzou Shimizu, Natsuko Oku, Masanari Taniai, Yuki Kuramochi, Uyanga Ayur, Chiaki Torisu, Pearl Lam, Satsuki Morisaki, Zekkas Stylianos, Mukti Sulistiono, Jesse Taylor
The 36th JAA Foreign Minister's Cup Baseball Tournament
The 36th JAA Foreign Minister's Cup Soft Baseball Tournament kicked off on Sunday, May 1st. The games are played on Sunday mornings at Central Park North Meadows and Randall's Island. This year, 13 teams entered, and league and exchange matches were held on July 1, and the top eight teams from each of the A and B blocks will advance to the playoffs (final tournament in August).
For details and updates, please see
jaabaseball.blogspot.com/
www.facebook.com/jaabaseball
JAA Committee on Japanese Language Education
The spring Japanese language workshop was held on April 2 via Zoom and was attended by 40 people, including participants from Japan. Professor Yasuo Shimizu of Doshisha University gave a lecture titled "The Present, Issues, and Possibilities of Proverbial Education in Japanese Language Education, and Future Prospects." Proverbs tend not to be widely used in Japanese language education, but there are sounds and rhythms, reflecting the culture of the country, and it was a good opportunity to reconsider using of the proverbs as a teaching tool. Professor Nakajima from Korea introduced the app, and from Japan there was also participation by Professor Yamaguchi, the author of the "Comparative Dictionary of World Proverbs". It was a good workshop to deepen understanding of proverbs and explore new Japanese language teaching methods.
We are accepting applications for programs
for the Autumn Health Fair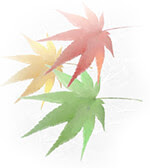 The 17th Autumn Health Fair will be held from Saturday, September 10 to Sunday, October 2 at JAA Hall and online. Under the theme of "To Live a Healthy and Secure Life in New York", we plan to hold programs on a variety of topics that can be enjoyed by children and adults alike such as pensions, wills, nursing care, dementia prevention and exercises, calligraphy and flower arranging. Please send your program application to the JAA office.
The 28th JAA Charity Golf Tournament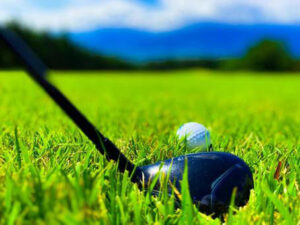 This year's Tournament will be held on Monday, September 26 at the Harbor Links Golf Course in North Hempstead New York. All Nippon Airways Business Class New York – Tokyo round-trip air tickets and other luxury prizes will be won. The participation fee is $260 (including $100 tax deduction).

JAA members news
Mr. Takeshi "Tak" Furumoto
Mr. Takeshi "Tak" Furumoto received "the Order of the Rising Sun, Silver Rays" at the conferment ceremony held on June 28th at the residence of Ambassador Mikio Mori. Since serving the US Military during the Vietnam War, Takeshi Furumoto has been engaged in various efforts for the betterment of Japanese & Japanese-American lives. Through his various activities as Honorary Chairman of New York Hiroshima-Kai and as a human rights activist, he has contributed to promotion of the status of the Japanese-American community in New York & New Jersey, as well as to the promotion of mutual understanding and friendship between Japan & the United States.
Thank you very much!
Ms. Motomi Tanaka

JAA Chorus director, Ms. Motomi Tanaka moved to Boston. JAA thanks Motomi for her past dedicated service to JAA and wish her a wonderful happy new life in Boston.
Social Services
On April 14 and 28, we held Keirokai as part of the 14th Sakura Health Fair. On the 14th, we enjoyed a performance by Rino Aise (vocal & Sanshin) and Tomoya Ogawa (guitarist), and on the 28th, there was a performance by IWAKI Band and a talk on COVID 19 Booster by Dr. Yuzuru Anzai. There were Keirokai in May and June with Japanese songs with IWAKI Band. Many thanks to Mr. Iwaki and the band members!
In Memoriam We are sad to note the loss of the following people from our community:
Ms. Teruko Mitani passed away on April 7 at Regal Heights Rehab. She was 84 years old.
Ms. Seiko Oshima passed away at her home on April 19. Since 1980, she has served as a director of the JAA, contributing to the establishment of the Keirokai and the Art Exhibition, and to the improvement of the culture and welfare of the Nikkei community in New York. She was 88 years old.
Ms. Kazuko Stone passed away in Japan on June 1. She wrote more than 30 picture books for toddlers and has been published worldwide. She was 76 years old.
Dr. Tatsuji Namba passed away on May 29 at Calvary Hospital in New York. Dr. Namba worked in New York and specializes in Neurology and contributed to the study of nerves, He was a long-time supporter of the JAA Scholarship. He spent his last years at Isabella House. He was 95 years old.
Mr. Koji Sato
President of the JAANY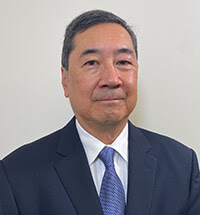 Koji Sato was born on September 5, 1959 in Manhattan, New York, where his parents had moved from Japan only the year prior. His father had initially moved to the US in the early 1950s to attend college in California after graduating from Chuo University in Japan and working at the Tokyo Metropolitan Government. He went back to Japan to undergo the matchmaking process, where he met Koji's mother. Upon returning to the US, Koji's father eventually expanded his gift shop business to include seven different locations.
Koji lived in Manhattan until he was five, when his family moved to Westchester. Nine years after that, they moved again to Tarrytown, where Koji attended Hackley School. Although he doesn't remember there being a strong Japanese community in the area where he grew up, his mother always emphasized the importance of Japanese language and culture. Growing up, Koji spoke only Japanese at home, and his mother sent him to Japanese school on weekends. At the time, he was envious of his friends who spent their weekends watching Saturday cartoons and playing baseball outside. Now, though, he credits his mother and Japanese school for the language skills that he has maintained to this day.
From fourth grade through middle school, Koji spent the summers staying with his mother's family in Japan. Since their semesters went until July, he would also attend school in Japan for the months that he was there. Unlike the US, where custodial staff clean up after students, Koji and his classmates would take shifts serving one another meals and cleaning up classrooms and bathrooms. He says that this taught him important lessons about responsibility and respect.
Koji attended Colgate University and then New York Law School. Koji always knew that he wanted to work with Japanese corporations and companies, so after graduating from law school, he moved to Tokyo to work as a foreign legal consultant for Hashidate Law Office, a Tokyo affiliate of Kelley Drye & Warren. The international law firm deals with major Japanese corporations who do international business with countries like the US. Koji stayed in Japan from 1986 to 1990, during which time both of his children were born. In 1990, Koji, his wife, and his two kids returned to New York, where they have stayed since then. Eventually, Koji went in-house for Orient Corporation of America, where he became their general counsel and handled all of their legal matters. Currently, he is the Senior Vice President and General Counsel of Orient Corporation, where he oversees all of US operations.
Koji also currently serves as the President of JAANY, following in the footsteps of his father, Noboru Sato (1989-1990). Although he heard bits and pieces about JAANY while his father was president, his first real experience with the organization was when he emceed for the New York region's Miss Nikkei pageant in his early 20s. In 2004, he became a Board member of JAANY, and was elected Vice President in 2009. Among other mentors, he credits his father, Francis Sogi, and Susan Onuma for bringing him to JAANY. The three, among whom all are former presidents, and two of whom were mentors to him at Kelley Drye & Warren, greatly influenced Koji's involvement with the organization.
Today, in addition to his positions at Orient Corporation and JAANY, Koji is now a grandfather to a beautiful granddaughter and grandson. He visits them as often as he can.
Interviewed by Anna Chung, intern from Princeton University