The 6th Annual Tanabata Festival 七夕フェスティバル
July 9, 2022 @ 7:00 pm

-

10:00 pm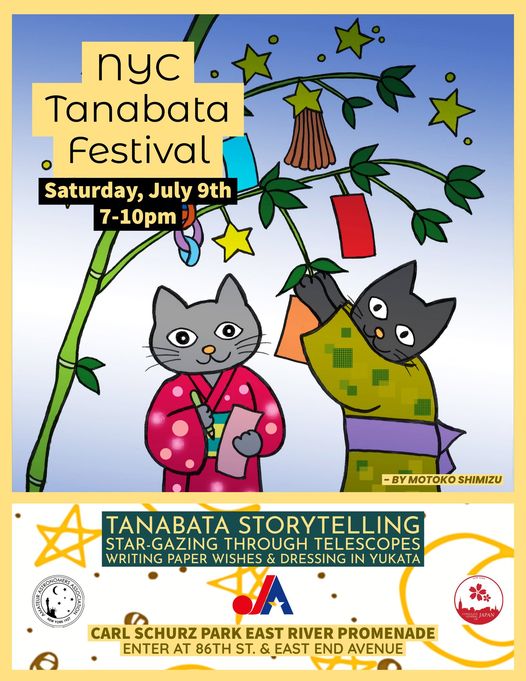 Presented by the Japanese & Japanese American community in New York with the Amateur Astronomers Association of NY(AAA). In observation of this Japanese summer festival based on a legend of "star-crossed" lovers, AAA members will provide the telescopes to show the public the night sky and relay the folk tale, and there will be Origami, Bonodori, Chorus and tanzaku paper on which to write and hang wishes on trees. Please enjoy it!  We recommend that you bring your own obento and picnic blanket and enjoy a summer evening out in Yukata.
On the East River Promenade in Carl Schurz Park(walk east from the entrance at 86th St. and East End Avenue)
NY混声コーラスの歌声で始まり、折り紙、彦星と織姫の紙芝居、盆踊りと続きます。ゆかたなどを着て楽しみましょう!The Amateur Astronomers Association of NYの協力で、望遠鏡で大空の星を身近に見ることが出来ます。食事。飲み物持参でのポットラックです! 雨天中止 どなたでもご参加できます。
This should show up after the event.