Congratulations,
JAA President, Susan Onuma,
Recipient of the Order of the Rising Sun,
Gold Rays with Rosette
In an official ceremony at the residence of Ambassador Kanji Yamanouchi on June 23, 2021, JAA President Susan Jun Onuma was bestowed the Government of Japan's highest civilian honor. She was recognized for her more than 30 years of continuous work in advancing Japan-U.S. relations and improving the lives of Japanese and Japanese Americans. Onuma became JAA's first female president from 2005 to 2007 and has been serving her second term since 2014, a period during which she expanded programs for seniors, families, and youth. Ambassador Yamanouchi spoke of her exemplary community work, especially as a leader during the challenging months of COVID-19. Onuma spoke of how warmly she was embraced by JAA members when she won a JAA scholarship as a high school senior after the death of her father. She also discussed the strong influence of her late father; late husband, Chris Amundsen; and late partner, Francis Y. Sogi, who encouraged her professionally and in nonprofit work. Judge Kiyo Matsumoto shared stories from Onuma's past, starting from her childhood in Queens raised by a Japanese mother and a Japanese American father and her professional path in law. Honorary JAA President Gary Moriwaki spoke of their combined efforts to network effectively to raise critical funding and strengthen the capacity of JAA and other organizations. Suki Terada Ports gave a toast to how Onuma has served with integrity. From the JAA community, congratulations, Susan Onuma, on this recognition for all you have done to help others.
Congratulations to all
the 2021 JAA Scholarship awardees!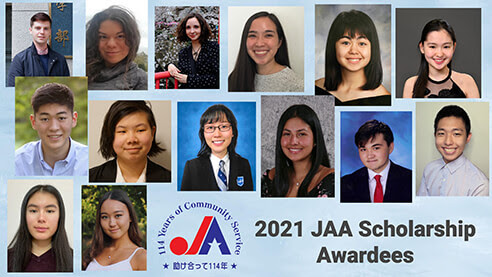 As part of JAA's longstanding tradition of supporting the younger generation – graduating high school students and graduate students pursuing studies that contribute to U.S.-Japan relations – we offer all 14 JAA Scholarship awardees our warmest congratulations.
We wish them great success as they continue to grow as future leaders and strengthen their ties to the U.S.-Japan community. Please view our June 4th virtual award ceremony at: https://youtu.be/qkrcpuUfGcg. Speakers included Ambassador Kanji Yamanouchi; Ann Burroughs, President and CEO of JANM; and Tom Ikeda, Executive Director of Densho. Thank you to all donors, the JAA Scholarship Committee, and Susan McCormac for creating this online tribute.
51st JAA Scholarship
(for graduating high school students)
1.MUFG Scholarship
($10,000 plus Round Trip Air Ticket to Japan, courtesy of All Nippon Airways)
Maria Elise Heffernen
Moorestown High School, will attend Princeton University
2.Murase Family Scholarship ($10,000)
Enako Matsumoto
Trinity School, will attend Harvard University
3.Dr. Soji Tomikawa Scholarship($7,500)
Koji Kimura
Blind Brook High School, will attend Cornell University-Engineering
4.Tatsuji Namba Scholarship ($6,000)
Anneliese Kazumi Takeshige
Bronx High School of Science, will attend University of Maryland
5.Orient Corporation of America Scholarship ($5,000)
Ai Omae
Leman Manhattan Preparatory School, will attend Johns Hopkins University
6.Saeko Ichinohe & George Horishige Scholarship ($5,000)
Kate Yuki Korey
Saint Vincent Ferrer High School, will attend Fordham University
7.TV Japan Scholarship($3,000)
Daniel Hideo Quinn
Mamaroneck High School, will attend Rice University-Engineering
8.Ambassador Shinichi Nishimiya Scholarship ($3,000)
Daniel Kenichiro Mori
High School of American Studies at Lehman College, will attend Vassar College
9.Moto Saito Scholarship($2,500)
Nanami Santa Cruz
Townsend Harris High School, will attend New York University
10.ANA Japan Travel Scholarship
(Round Trip Air Ticket to Japan, courtesy of All Nippon Airways plus $1,000)
Hana Kimie Lueckerath
Horace Greeley High School, will attend Tulane University
15th JAA HONJO Scholarship
(FOR GRADUATE STUDENTS)
●Jason Gordon Butters $8,500
Columbia University
Department of East Asian Languages and Cultures
●Ekaterina Komova $8,500
Columbia University
Department of East Asian Languages and Cultures
●Aelita R. Parker $4,500
Brooklyn College, Master of Fine Arts in Fiction
●Valerie Jeanine Zinner $8,500
Columbia University
Department of Art History
JAA General Scholarship Committee
Co-Chairs: Makoto Iwahara, Koji Sato
Members: Julie Azuma, Nobuhisa Ishizuka, Satoru Murase, Susan J. Onuma, Sayu Ueno (Mitsui & Co., U.S.A. )
JAA Honjo Scholarship Committee
Chair: Gary S. Moriwaki
Members: Keiko Kato, Satoru Murase, Susan J. Onuma , Katsuo Takeda
Project Bento ends on May 27 – one year after its start
Project Bento was created by several volunteers in collaboration with the Yoshida Restaurant Group after JAA's Keirokai was suspended because of COVID-19. During lockdown, JAA volunteers delivered 180-200 lunch boxes weekly to seniors and individuals with disabilities throughout NYC. This project made possible with the support of the Consulate General of NY, various restaurants and many volunteers who generously donated their time, resources and energy, rain or shine. The volunteers came from different backgrounds, occupations and organizations, but they united to support seniors and others in need in the community. JAA and JAA Board member and Vice President Susan M. McCormac who spearheaded this initiative, received recognition and deep appreciation from the people they served and the community at large.
Tsuru and Bento on 10th Anniversary of 3.11
We show our gratitude to those in New York by giving back on 3.11. This year Sunrise Mart and Restaurant Nippon donated bento as gifts to frontline workers at the Grand Central Station and those in need. JAA received more than 4,000 paper cranesfrom members of several local Japan-related organizations. Thank you to all the people who gave their time and skills in making these origami cranes.
On the 10th Anniversary of the Tsunami in Tohoku
We send our thoughts to those in the region as they continue to rebuild their communities. We made a special video dedicated to the victims of the Great East Japan Earthquake and in gratitude to those who have supported the Tohoku survivors. Presented by the Consulate General of Japan in NY and JAA, in cooperation with Japan Society and hosted by Kaoriko Kuge, the video paid tribute to Tohoku's revitalization and recognized the U.S.-Japan #UnshakableFriendship. Messages of hope from Ambassador Kanji Yamanouchi, Dr. Joshua Walker, Hideki Matsui, and Bobby Valentine were featured as well as performances by The Young People's Chorus and Grammy Award winner Ron Carter.
JAA's 13th Sakura Health Fair
was held from April 8 through May 2 and included lectures and workshops on coping during the pandemic with proper nutrition and exercise. Events included an origami workshop, CPR and Tai Chi lessons, free consultations on legal and immigration matters, and information on pregnancy and breast cancer. On April 29, the lecture "Japanese Safety Measures" was held jointly by the Consulate General of Japan in NY and the NY Japanese-American Lions Club. This lecture on safety measures for the Asian community was given through Zoom by officers from the NYPD. Consul General Takashi Nozaki translated the lecture into Japanese.
Please view our 16th Sakura Matsuri online
Much gratitude to all those who made this possible: Susan McCormac, Susan Onuma, Michiyo Noda, Ambassador Kanji Yamanouchi and the Consulate General of Japan in NY, the NY Okinawa Club, The Japanese Folk Dance Institute of NY, Soh Daiko, the staff at Flushing Meadows Corona Park, the Inagaki family, and the JAA Chorus!
on JAA's YouTube channel: https://youtu.be/Y1nCFGJ3c9o
The Annual Memorial Day Ceremony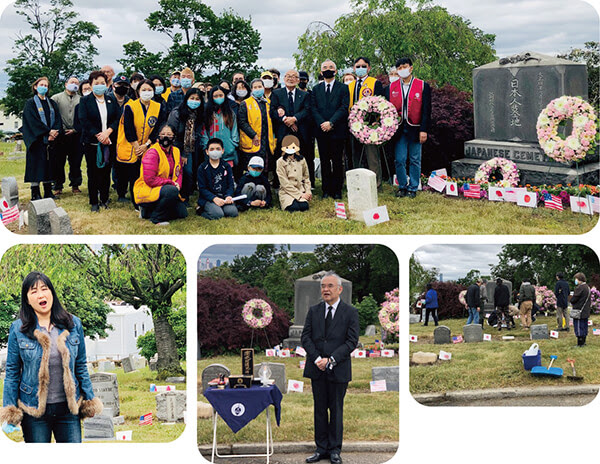 was held at the Japanese Cemetery in Mt. Olivet Cemetery where thirty people gathered for a gravesite visit. Attendees gave a floral tribute while chanting Buddhist sutras. Ambassador Kanji Yamanouchi conveyed his joy at being able to celebrate the 110th anniversary of the establishment of the Japanese Cemetery and spoke of how the important history of the Japanese and Japanese Americans who contributed to NY would be preserved by the recently launched History of Japanese in NY Digital Museum. Soprano Asako Tamura-Materasso sang "A Thousand Winds" and "Ave Maria." The participants then visited the grave of JAA's founder, Dr. Toyohiko Takami. This event was organized by the NY Buddhist Church, the Consulate General of Japan in NY, the NY Japanese-American Lions Club, the Japanese Children's Society and JAA.
The 25th Annual JAA Exhibition
of Japanese and Japanese American Artists opened on May 20 at JAA Hall. The opening reception was held on the second day of New York City's reopening. Ambassador Kanji Yamanouchi offered special greetings for the more than 70 participants who joined in person and online. All attendees were delighted to see each other and the beautiful artwork. This year we were proud to present 49 original artworks by 26 wonderful artists: Natsuko Hattori, George Hirose Photography, Kumi Hirose, Kazuko Hyakuda, Shigeno Ichimura-Studio, Maho Kino, Ryoichi Miura, Hiromitsu Morimoto, Yasumitsu Morito, Miki Nagano, Masaaki Noda, Katsura Okada, Tomomi Ono, Shunji Sakuyama, Kenjiro Sasaki, Masaaki Sato, Mizue Sawano, Noriko Shinohara, Ushio Shinohara, Akemi Takeda, Keico Watanabe, Junko Yoda, Toshihisa Yoda, Yoichiro Yoda, and legendary works of art from the late Kunio Izuka.
This is an important JAA Fundraiser with the support of the Consulate General of Japan in NY, NY Shukan Seikatsu, and Yomitime. The exhibition ended on May 29 with a donation of 50% of gross sales of $13,740 to JAA.
The 5th Annual Tanabata Festival
was held on Saturday, July 10 at Carl Schurz Park. We had a great crowd who enjoyed the New York Mixed Chorus and the kamishibai reading of the Tanabata fable by Miyuki Kubo of the Consulate General of Japan. This Japanese summer star gazing festival was organized by the JAA, the Origami Therapy Organization, and the Amateur Astronomers Association of New York. Special thanks to Suki Terada Ports, Stan Honda, Toshiko Kobayashi and everyone who participated and worked so hard to make this event a success in spite of the rain that later came down!
The 35th JAA Foreign Minister's Cup Softball Baseball Tournament began on May 2
For the first time in two years, 13 teams are participating in the tournament. The teams play every Sunday morning at Central Park North Meadow and Randall's Island. For details, please visit these websites.:
www.jaabaseball.blogspot.com
www.Facebook.com/jaabaseball
The Spring Japanese Language Online Workshop
was held on March 20 with 50 participants from New York, Japan, Chicago, Colorado, and Nashville. The theme was "Possibilities of Projects in Online Courses." Former Brooklyn Friends Academy Professor Emiko Makishima gave a presentation entitled "Radio Project." A high school student at the United Nations International School published a paper written under the guidance of Professor Tsuda. Professor Kazue Kurahara of the New School introduced a picture book project made by students.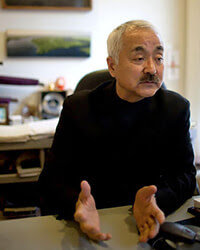 Congratulations to Shuji Bon Yagi for being awarded the 31st Annual Village Award for his contribution to the local community. The awarding organization was founded in 1980 with the aim of preserving the architectural and cultural heritage of downtown Manhattan.
A director of JAA, Yagi thanked his family, staff, and community for their dedication in helping him receive the award.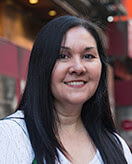 JAA Vice President and Assistant Secretary Susan McCormac was recognized by the Embassy of Japan in the US and the U.S.-Japan Council for International Women's Day for her work in starting JAA's Project Bento and in contributing to Japan-U.S. relations. Susan's comment: "As a Japanese American woman in NY, I use my platform not only to create content, to build awareness, and to promote businesses and cross-cultural relations, but also to inspire and empower Japanese and Japanese American women to do the same and be proud of our collective heritage."
The Digital Museum of the History of Japanese in New York was launched on May 18
This will be the first East Coast digital archive documenting the Japanese who contributed to NY's unique culture. We wish to preserve and share this remarkable history with the younger generation. The Digital Museum's historical materials cover politics, business, science, culture, education, Japanese migration, and more. As a community endeavor, the digital museum was established by the Japan History Council.
www.historyofjapaneseinny.org
We are accepting historical materials and financial assistance.
Please contact JAA and history@jaany.org
The 27th JAA Charity Golf Tournament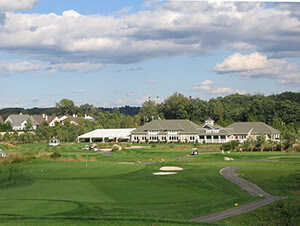 will be held on Monday, September 27 at the Harbor Links Golf Course in Port Washington, NY.
Winners will receive an ANA Business Class ticket, luxury prizes, and participation prizes. The participation fee is $260, of which $100 is tax deductible. The capacity is 72 people, so please reserve your spot through JAA as soon as possible.
Looking for speakers for
the 15th Autumn Health Fair
which will be held from September 9 to October 3 at JAA Hall and on Zoom and YouTube. Under the theme "To live a healthy and secure New York life," children and adults can enjoy information on welfare such as pensions and wills, nursing care, dementia prevention and exercises, educational programs for children and Japanese Culture classes. We are accepting proposals for speakers on topics related to the foregoing theme. Please contact JAA.
JAA Intern 2021: Ms. Hana Widerman
Born to an American father and a Japanese mother, Hana is a writer and English major at Princeton University.
She has greatly enjoyed working with the JAA archival team, researching for the Oral History Project, and interviewing senior members of JAA.
A "Go For Broke"
commemorative stamp was released on June 3 in honor of the Japanese Americans who served in the U.S. Army during World War II and to raise awareness of their lasting contributions to the U.S. "Go For Broke" stamps are available at the post office or by ordering online.
Social Service Program/Keirokai
With the reopening of New York, Keirokai was held online and at JAA Hall from April 22 to May 27. There were 30 to 40 participants, and all guests were required to take a body temperature test, show vaccination status, and wear masks. Guests enjoyed the performance of the IWAKI band, the songs of KOJI, Reiko Osumi, Ken Sato, Akira Suzuki, and others. On April 22, Kyoko Ohnishi performed Japanese dance. From June to July, JAA held two Keirokais and a birthday party with a capacity of 72 people.
●Aileen Yamaguchi
Ms. Yamaguchi, past President of JACL-NY and JAA Board member who coordinated the social program for seniors at JAA for many years, passed away on May 14 at Isabella House. She was 85 years old. Her memorial service was held in California on June 26. Born and raised in Central Valley, California, Ms. Yamaguchi received her master's degree from the School of Public Health at the University of Hawaii and attended San Jose State University for Occupational Therapy.
Ms. Yamaguchi was a Psychiatric Occupational Therapist for fifty years and worked in the In-Patient Unit, Day Center program at St. Luke's/Roosevelt Hospitals in New York City. In Japan, she started Occupational Therapy Schools in Tokyo and Osaka and was an Instructor/Consultant at the Kyushu Rehab College.
●Kazuko Nagamatsu
Ms. Nagamatsu was hospitalized for cardiomyopathy in April and passed away on May 31 at the age of 85. She was the wife of Dr. George Nagamatsu, who was a leader in utilization of engineering principles in urological research.
●John Tsugio Yoshinaga
Born in Sacramento, California in 1920, Mr. Yoshinaga served in the 441st CIC (CounterIntelligence Corps) during World War II and worked at the Information Bureau after the war. Until a few years ago, he participated in the Tai Chi class at JAA with his wife, Lucian. He died on June 14 at age 100.
Please accept our heartfelt condolences.
Please accept our heartfelt condolences.
Trailblazer in Nursing
Tsugie Watanabe
Tsugie Watanabe was born in 1938 and raised in Ōshima, an island in Ehime Prefecture of Japan. She recalls the rural nature of Ōshima with great pleasure, recounting running around there as a child. In high school, she had a pen pal and developed a strong urge to come to the US. Though she didn't have the money to go to college, the government of Japan paid for nursing school at that time, so she went to Osaka Hospital for three years of nursing school. From 1960 until1965, Tsugie worked at Yodogawa Christian Hospital and studied English. She didn't rest a single day. In 1965, she started working at UPenn's Hospital as part of an exchange program, eventually becoming a specialized nurse anesthetist after two years of intense work. When her visa ran out during the fourth year, she went back to Japan, working again at Yodogawa. However, she missed her work as a nurse anesthetist and went to Washington University in St. Louis at the recommendation of a doctor at her hospital. She worked at the Barnes-Jewish Hospital while studying, and at the suggestion of her boss, she made cardiothoracic surgery her specialty and achieved great success to the point where patients requested her specifically. To this day, she expresses extreme passion for her work. She almost resigned at age 70 when her grandson was born, but her boss convinced her to stay one more year. With an eye toward helping others, she established a scholarship called the Tsugie Susy Watanabe Award for Outstanding CT SRNA.
Information gathered and edited by Hana Widerman.