JAA 114th Anniversary Virtual Gala
December 3, 2021 @ 7:00 pm

-

8:00 pm

$250.00 – $10,000.00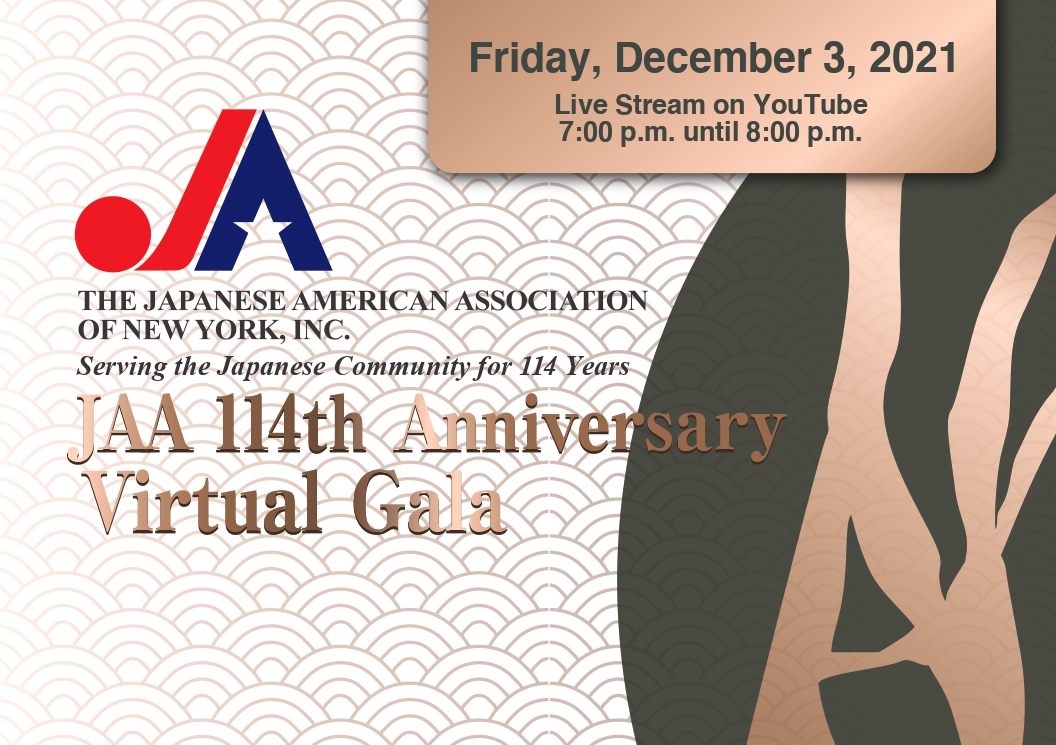 JAA continued to have a challenging year, but we were happy to re-open our doors in May and start holding hybrid programs while practicing social distancing. We were very busy helping people navigate the COVID vaccine registration process and dealing with mental health and safety concerns as anti-Asian crime increased. In the fall, we were able to hold our annual art show and charity golf tournament in person to great enthusiasm.
In keeping with the theme of overcoming the ongoing pandemic and moving forward, please join us as we honor:
All Nippon Airways (ANA) for not only surviving a most distressing year in the travel industry but also for continuing to provide generous support to organizations such as JAA during this difficult period.
Mr. Shuji Bon Yagi, President of T.I.C. Restaurant Group, for starting the Japanese Restaurant Association of NY as a means to bring members of the Japanese restaurant industry together to overcome the economic challenges caused by COVID.
Deputy Inspector Naoki Yaguchi of the NYPD for becoming the first and highest ranking Japanese American to head a precinct in the New York Police Department during a year in which the rise in anti-Asian crime reached record levels.
Date & Time:
Friday, December 3, 2021 7:00 p.m. until 8:00 p.m.
Live Stream on youtube (URL will be announced later via email)
Get tickets below or send us a reservation form.
Honorees:
All NIPPON AIRWAYS CO., LTD.
Mr. Shuji Bon Yagi
Deputy Inspector Naoki Yaguchi
Guest Artists:
Soh Daiko
JAA Chorus
JAA 114th Anniversary Gala Committee
Chair
Koji Sato
Members
Julie Azuma, Nobuhisa Ishizuka, Maki Kano-Lueckerath, Susan M. McCormac, Gary S. Moriwaki, Michiyo Noda, Susan J. Onuma, Suki Terada Ports
This should show up after the event.